Happy Fathers' Day to all of the dads today – the cool dads, the embarrassing dads, the new dads and to those dads who are no longer here but will be remembered loving and missed like crazy today.
There is a saying that I'm sure you've come across in your time, and it's very true don't you think?
Anyone can become a father, but it takes someone special to become a dad
Todays' post could have gone one of many ways: dedicated to Trev, my champ of a Dad who I'm lucky enough to see every day, it could have been written about the MOTH for being a wonderful father to our darling little girl and a super step-dad to my teen lads, to my boys as future fathers expressing my dreams for them and my grandchildren (oh, God, not yet though, please!) ….. but …… I've decided to throw down a random collection of thoughts to mark this auspicious day.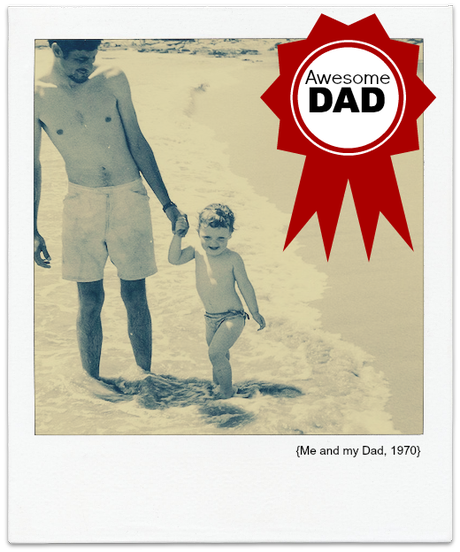 Random Point One
My Dad, Trev, (as pictured with me above) on occasion used to come out partying with my college mates and I (yes, weird I know, but he was good for shouting jugs of beer!). At World Expo 88 in Brisbane, my home town, my college buddies and I used to meet up with my Dad and head to the German Beerhouse for big nights and then Trev would guide us all to one of the other pubs on site. He became fondly known to my mates as "Trev the Tour Guide, the Expo Expert".
Random Point Two
I received the "period" talk from Dad, not Mum who 'conveniently' escaped to the one P&C meeting she ever attended. I now believe she was outside sitting in the car. Dad, accompanied by a Johnson & Johnson brochure, assured me I was free to ask him any questions. I declined.
Random Point Three
The MOTH became a dad for the first time at age 46! Bless his heart though, the picture I have of him putting on her first hospital singlet after being born – with his farmer hands so big and her little-ness such a contrast – warms my heart. She idolises him (as do my big boys) and the journey has been a very wonderful thing.
Random Point Four
My boys are always with their father on Father's Day and although shared-parenting can be a bloody tough gig, I am thankful for the love and care they receive from him. I have friends with children who receive no or little positive contact from their fathers and think, despite deep water under the bridge, our boys are lucky indeed.
Random Point Five
Fathers are much harder to buy for aren't they? My Dad, the MOTH and my father-in-law have everything that they need or could want and there does come time when the 'socks and jocks' excuse is invalid. Yesterday in KMart, there was a lady and her daughter excitedly purchasing half of the outdoor sporting equipment department and I wonder if we are at risk of over-commercialising Father's Day. Mmmm a box of Favourites and a few scratchies for thought there, isn't there.

What are your random thoughts on Father's day?