Happy Friday readers! Unfortunately, our weekly web series is having some minor technical details, but I still wanted to provide you with some tips for holiday shopping – specifically buying a pre-owned watch.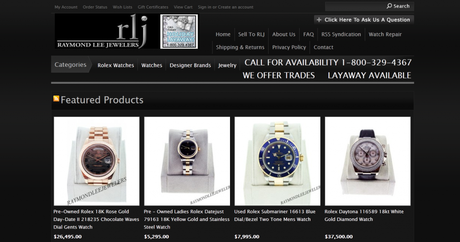 First, you need to decide whether you'll be purchasing online or in a traditional brick and mortar store. The benefits of online shopping include convenience and a larger selection. There are some key features to look for in an online watch seller that will help you get the perfect watch this holiday season:
Research the seller's reputation. Read through their feedback, and make sure that it is positive. Look for happy customers pleased with expedient order processing, fast shipping, and – of course – the exact watch they ordered, in the precise condition it was described as.
Within the feedback, also look for customers who bought high value items. Look for the dates of these purchases; they should be spread out over a period of weeks, months, and ideally, years. Additionally, look to see that high value items are still for sale in the online store. If the seller can afford to keep a selection of valuable, desirable stock, they are more than likely reputable.
Another key feature to look for is a secure return policy. Returns should be offered easily to customers who need to exchange or get a full refund. If the seller explicitly states no refunds, it's a red flag. Any reputable seller will have a clear-cut and hassle free return policy outlined on their website or online store.
Should you decide to shop at a traditional, brick and mortar jewelry store, refer to our tips for choosing the right jeweler. Additional tips that apply to buying a pre-owned watch include looking for warranty policies. The standard warranty for pre-owned watches is 2 years. This warranty should include coverage for all internal parts & movement.
Another feature that you want in a pre-owned watch seller is detailed receipts – this is true for the aforementioned online sellers too. The receipt should include the full model number and details about the watch, so that any repairs or services under warranty will be easier, and so that you are ensured that the watch you get is what you've paid for.
Finally, There are steps to take to ensure that you're getting the best deal on your watch.
 Visit at least three other stores, or online sellers to compare prices and conditions on the watch you're interested in.
 Look within your area for traditional stores, and online compare sellers with similar inventory that have the features I mentioned earlier.
Again, make sure that the watches you're comparing are the same age and condition, and that they all come with warranties (if the warranties vary, factor that into your decision too).
Another great way to save money is by negating a part of the sales tax on your purchase. You can do this by trading in old or unwanted jewelry or watches, reducing the balance you have to pay or cancelling it out altogether. Both scenarios have you paying considerably less in taxes.
So, to reiterate, the most important tip for making sure you're satisfied with your pre-owned watch purchase is researching the seller. Be it online or brick and mortar, look for solid reputation, receipts, returns, and warranty policies. Finally, consider trading in to reduce not only your out of pocket cost, but also the taxes you pay on your purchase.
To view our online selection of preowned luxury watches, visit our online store or our ebay site.
Liz for Raymond Lee Jewelers South Florida's choice for luxury watches, preowned watches, and watch repair.