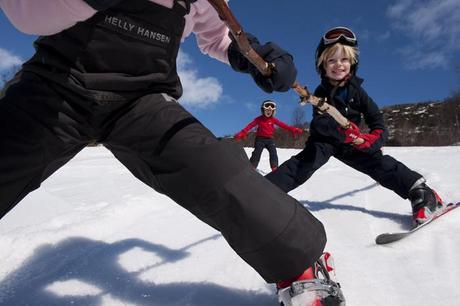 Winter sports like skiing can be an excellent way to get some exercise when the temperatures drop. Ski resorts around the world offer top-notch amenities and access to some of the best slopes for skiers of all ages and skill levels, making them ideal vacation spots during the winter months. If you're just starting out with the sport and aren't sure where to begin, follow these tips for first time skiers.
Get The Right Equipment
Instead of borrowing skiing equipment from a friend, rent equipment that is tailored to your height and weight. Your friend's equipment is likely perfect for him or her, but it's unlikely that it'll be perfect for you. Having the wrong equipment can not only mess up your chances of having successful runs on the slopes, but it can also be extremely dangerous as it will increase your chances of wiping out and getting hurt.
In addition to proper ski equipment, you'll need some other basic things in order to enjoy your time on the mountain and get the most out of your first skiing experience. Warm, nylon pants and a waterproof ski jacket or windbreaker will keep you dry and comfortable. Ski gloves and a hat are also good items to have, in addition to goggles and a helmet. Never wear jeans or anything cotton, as these materials will absorb water and leave you feeling cold and damp.
Take a Friend
First time skiers should never ski alone, so buddy up when you hit the slopes. Having a friend along for the trip will not only make the experience more fun, but it's also important for safety reasons. If you crash or get hurt, a friend will be able to go for help, or assist you down the mountain.
Another tip is to ski with a friend that has an equal skill level as you. That way, you can have fun on the same type of slopes while also being safe. If you go in a large group with varied skill levels, you might feel pressure to go on harder trails that you're not ready for. Stick to the easy slopes with a buddy until you're ready to tackle the tougher terrain.
Start With The Basics
It's rare for someone to strap on a pair of skis and be a natural. Before you even get on your first chair lift, be sure that you know the basics of turning, transitioning terrain and stopping. Have a friend that is experienced teach you the basics, or take a few lessons at the ski resort before actually hitting the mountain. This will decrease your chances of falling and make the entire experience more enjoyable because you'll be spending more time on your feet than your butt.
Another important thing to learn is how to get off the chair lift. While it may seem like common sense, many first time skiers panic when they reach the top of the mountain and have to actually get off the lift. Practice on the bunny slopes before getting on a bigger lift. Remember to stand first, and then gently push away from the lift.
Know The Mountain
Get familiar with the mountain before you head to the chair lift. You don't want to accidentally end up on terrain that you aren't prepared for. In general, green courses are for beginners, blue courses are for intermediate skiers, and black courses are for advanced skiers. If you remember nothing else, remember to steer clear of the double black diamond courses.
You should also read over the Skiers Responsibility Code that's printed on the ski maps at any resort. The code will clue you in on things like remembering to look both ways before making a turn or switching terrain, and stopping in areas where you won't cause another skier to hit you or have to go out of their way to avoid you.
Manage Your Expectations
Realizing that you won't be an Olympic skier on your first ski outing will allow you to approach the day with a casual and lighthearted attitude. Too many times, people want to skip the basics and go right to an intermediate course. Taking your time, learning the basics and having fun with the sport will help you enjoy it more, and develop a passion for getting better over time.
Post contributed by Simon on behalf of Chillisauce.co.uk, an events agency specialising in luxury travel and stag do ideas .
Related posts brought to you by Yet Another Related Posts Plugin.