Ever been to Las Vegas? Do you want to go? Well, you should because Vegas is – the city that never sleeps because the lights never go out.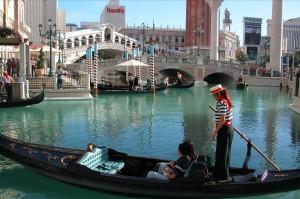 A hotel in Las Vegas!
From outer space, Las Vegas is a huge beacon of light. Home to a large list of casinos and hotels; Vegas is noted to house the Golden Nugget Casino, the largest casino and hotel in the city, the Plaza Hotel and Casino and Caesars Palace just to name a few.
But there is more to Vegas then staying out until the crack of dawn and trying your luck at gambling – there are restaurants, great shows, landmarks and many fun things to do. The trick to have a great time in Vegas is all about planning a trip filled with variety. To get you started, think about doing the following on your epic trip to Vegas.
If you want to slip through time itself, then slip through by going for a swim at Caesars Palace. This hotel has many attention grabbing pools to pick from, such as The Fortuna Pool (named after the Roman goddess of luck), The Apollo Pool (the Greek god of the sun will help you get that tan you want) and the Neptune Pool. Not to mention there is a great Ancient Egyptian styled nightclub called Cleopatra's Barge to check out. Also why not fit in a massage?
Book early and plan to see some shows. Why not fit in some magical intrigue by see a show by David Copperfield? As for a concert, see a sell out show from headliners Shania Twain, Rod Stewart, Celine Dion, Elton John and Human Nature. There is Cirque Du Soleil, each edition of these shows are truly unique and different because they chop and change themes and concepts just as quickly as they do their amazing jumps through the air. There are comedy shows and even tribute shows for Michael Jackson and Elvis Presley.
At the Mirage, you can get up close and become friends with dolphins as you learn how to train them for the day. If you want to fit in more of Mother Nature's amazing creatures then pay the Flamingo a visit.   This natural reserve is filled with waterfalls, fish and lagoons. But the exotic birds really does make this place picturesque, there are flamingos, Chinese pheasants, swans and Mandarin ducks. Also if you wanted to see fish, go to the Koi Pond at the Wynn, they also offer gamblers free mojitos and tequila drinks from their menu, but don't forget to tip your server a dollar at least.
As for landmarks, check out the Bellagio Fountain. This world famous fountain is a hotspot because of its unique visual performance and it is free. They run shows every fifteen to thirty minutes. This fountain dances to music in carefully choreographed shows and sprays water up to 460 feet into the air. But if you are a fan of Ocean's Twelve, you can picture the water moving to Clair De Lune instead if you wanted.
There are many things to do in Vegas and as one last tip, try and avoid using the hotel's internet connection too much. Instead invest your time in these free wifi hotspots.