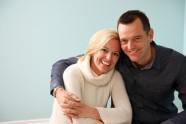 Jason and Kim Graham-Nye
"Fifty million diapers are thrown away every day and each takes 500 years to decompose." When new parents and gDiapers' founders Jason and Kim Graham-Nye heard this statistic, they were shocked. Not wanting to be part of that environmental degradation, they sought a better alternative. They found a Tasmanian diaper that was 100% biodegradable and flush-able which worked well with their first son. They bought the rights to the patent and designs and moved to Portland, Oregon to bring the product to as many moms and dads as they could.
In Portland, the Graham-Nyes began growing a family-based company. Today, gDiapers has brought the green diaper movement to thousands of parents and their babies. In fact, their 100% biodegradable baby diaper is the first consumer packaged good to be Cradle to Cradle certified. Concerned consumers can rest assured gDiapers takes responsibility for every step of their product's life-cycle.
Environmental impact is only one piece of the puzzle. gDiapers also strives to create a healthy, family-friendly working environment and keep customer relationships at its core.  For example, early on before facebook, one passionate customer offered to start a Yahoo user group where customers oculd share stories and ask questions. This group has now grown to include 7,000 members. Along with their facebook group, gDiapers uses these forums to improve their product and keep in touch with consumer needs. Co-Founder Jason Graham-Nye has also been known to post his personal cell number on the page, urging customers to contact him with any issues. Graham-Nye's blog, where he talks about his experiences as a Dad and posts videos of the gDiaper crew delivering gDiaper swag, is also an example of how gDiapers consistently works to connect to the consumer on a personal level.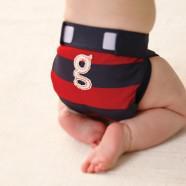 Product was not the only bottom line for the Graham-Nyes and 
B Corporation Certification
was an important step to incorporate their larger mission into the core of their company. James Graham-Nye explains B Certification helps put corporate responsibility in concrete terms. Consumers trust in gDiapers, not just from their personal connections built by the Graham-Nye's and the gDiaper staff, but also from a recognizable and accountable standard that has their product and whole company in mind. Although it took some time to get everyone on board, gDiapers excitedly (and finally) joined the B Corp community in 2011.
gDiapers is now looking towards European expansion and are already testing the market in England and France. Their goal is to keep the momentum going, introducing new products and reaching new markets across the world. This way their eco-conscious diapers can make that tangible,  no-waste change parents seek.
To learn more, Better Know gDiapers.