Let me start of my review by saying, I'm glad that Tintin wasn't made as a live action movie.  It might have been good but the animation in Tintin was just great.  Incredible I should say.
I cannot remember how many times I said wow at how excellent (I mean bloody excellent) the animation is.  I'm sure by my high praises you can tell I loved Tintin.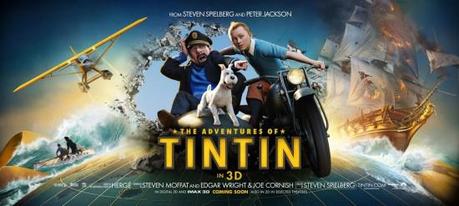 STORY
 I'm not going to go into detail on what the story is but lets just say it had what I was looking for, a big old ADVENTURE!  And boy was it fun.  Tintin is trying to uncover the secret of a pirate ship called the Unicorn and this takes me through different locals and characters.
Bottom line is that it is a great adventure and the film doesn't waste anytime getting you into it.  Simple story, good plot points and very good action.  I wasn't confused and sold physics exam type stories like Pirates of the Caribbean try to do.
BEST THINGS ABOUT TINTIN
This is a straight to the point sell on Tintin.  I don't think anyone needs to hear or read a whole lot before you make up your mind about seeing it.  If you love adventure, then definitely see it.  The animation and motion capture is so good.  The best I've seen so far.  The characters are funny, especially Captain Haddock which at times almost stole the show from Tintin.  Voice acting is always great.
Captain Haddock especially was able to sell the story to me even more from his facial animations and voice acting.  It's no surprise who voices Captain Haddock here.  You guessed it, Andy Serkis.
Note about the comic:  I've never read a Tintin comic before but from my intuition I could tell that the film did a good enough job of maintaining the humor from the comics.  It felt a little like old school comedy sometimes which isn't bad.
George says watch Tintin.  I saw it in 2D and it was still great.  Mr Spielberg surely surprised me.