Restaurante Sidrería Tino El Roxu is an excellent place to know about if you're in Gijón. The place has a good feel - usually just crowded enough to be convivial without being so packed as to make being served impossible. The sidra is good (and its eponymous red-haired proprietor has won many a competition for escanciadores), and the kitchen excellent: all the asturiano standards are good here, and at lunch there is an excellent 11€ menú.
Today's menú included pulpín con patatas, a hearty stew of diced potatoes and young octopus, seasoned with paprika. Lovely.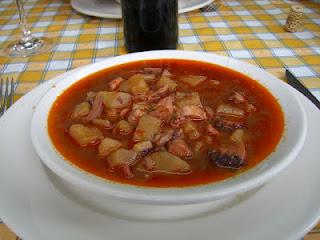 For segundo I chose imperador a la plancha, or a fried piece of red bream, aka alfonsino. Also nice, although cooked a tad too long.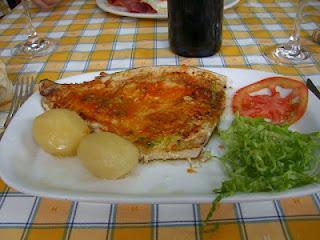 This was accompanied by a bottle of much-better-than-decent house red wine. Dessert, the weakest part of the meal, was a perfectly ordinary flan. This all may not sound like much (although the pulpín con patatas was really great), but it was somehow more than the sum of its parts. I'm happy to go here almost any time.
Restaurante Sidrería Tino El Roxu
Avenida de la Costa, 30
33205 Gijón, Spain
(+34) 985 14 09 91
website