It has been quite some time, I realize, since my last post. Since then, I have endeavored to keep all information here as up-to-date as I can. Sadly, this has, for the most part, consisted of noting when places have closed. Of the places I have come across in the meantime, none have inspired me to marshal my intellectual energies sufficiently to actually write a post. That is, until yesterday.
I am, once again, in Asturias, in the north of Spain, and yesterday was my birthday, This coincided with Santa Jueves (Maundy Thursday of Holy Week, a much bigger deal in Catholic Spain than it is in the United States), so my close friend José Ángel had the day free to take me driving around the province. Naturally, I wanted to head to the mountains, but that was not a firm plan since there was supposed to be a lot of rain and snow. The weather surprised us both and was lovely (except at the highest altitudes, where there was rain).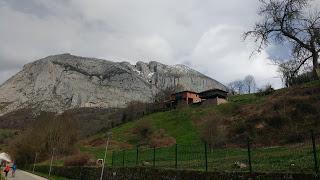 Our route took us along the Senda del Oso, a marvelous hiking and biking path built on an old mining railway along the Trubia and Teverga rivers. Around lunchtime, we reached Samartín/San Martín de Teverga, a cute town full of tourists and day-trippers, all of whom, obviously, had the day off, too. This scene did not suit me at all, but we needed to come up with a plan fairly soon before every place stopped serving lunch. We left the car on the south edge of town, where I noticed (well, it was a hard to miss) a church and a rural hotel down the road a bit to the west and suggested we take a walk.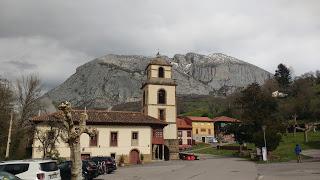 And just as I had already strongly suspected, past the church was a restaurant that appeared quite promising, an establishment called Restaurante La Chabola.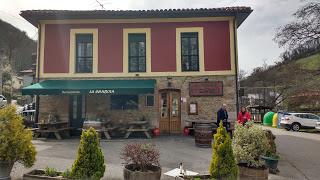 We entered, and were seated immediately. What followed exceeded my highest expectations... I'm glad to know that my instincts have not completely deserted me! The menú especial that day was €18 (since it was festivo, their menú is mostly likely cheaper on weekdays), which included the standard first course, second course, dessert and bebida. Upon consultation with our helpful and knowledgeable server, José Ángel and I, naturally, ordered in such a way as to maximize the number of dishes we could try.
For our primeros, we had arroz meloso con pitu y setas (rice with chicken and wild mushrooms) and pote asturiano.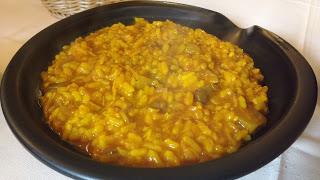 Arroz meloso is the Spanish equivalent of risotto. Like risotto, it's made with short grain (paella) rice, and although the cooking process is simplified, the result is almost identical: just creamy enough to hold the rice together, with each grain distinct and en su punto. The combination of chicken and wild mushrooms – clearly local ingredients – and a bit of saffron could hardly be improved upon, nor could the preparation. One could easily pay upwards of €20 for a dish of this quality alone at other restaurants in Asturias... it's almost astonishing to find it as part of a daily menú.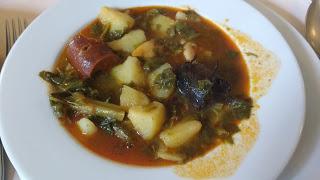 The pote asturiano was everything it should be. It's the asturiano answer to caldo gallego, and the ingredients are similar, yet completely asturiano: berzas (collard greens), potatoes, fabes (the large, white haricot beans that star in fabada asturiana), morcilla (blood sausage), chorizo, and tocino (pork belly). All the ingredients were top-quality, and the kitchen clearly knows what its doing. Possibly the best pote I've ever tried.
Rollo de bonito and caldereta de borrego were the segundo platos.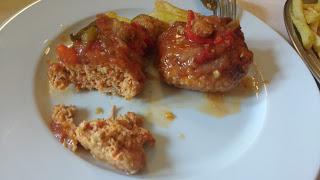 Normally, rollo de bonito consists of chopped bonito (a fish of the tuna and mackerel family), jamón, hard-boiled eggs and seasonings held together with bread crumbs (a la meatloaf), then rolled out and rolled up into a cylinder, fried, and sliced into rounds. As José Ángel quickly pointed out, that is not exactly what was served... it was more like an "albondiga de bonito" (a bonito "meatball"). Nonetheless, he was quite happy with it, and it was indeed delicious.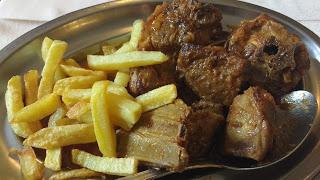 Caldereta de borrego (stewed lamb, though not particularly young lamb) reminded me a bit of the cabrito at Casa Juanín, especially in its intensity of flavor. It was excellent, although I did find myself wishing I had heeded our server's recommendation of codillo asado (roasted pork hock)... I feel sure she had my best interests in mind and that it was spectacular. Next time.
Postre was flan (very good, though not quite up to the gold standard of Isabel's) and arroz con leche. Having lost most of any sweet tooth I may have had as I got older, I never expected the dessert to be my favorite dish of many great ones, but it was. This was one of the two greatest rice puddings I have ever tasted, the other one being at Casa Gerardo in Prendes (the one I make at home following a recipe from Casa Gerardo is a close third). It is clearly made old-style, reducing the milk with not-so-very-much rice for 2-3 hours, stirring it almost constantly. It was beautiful, causing me to practically well up – a reaction I am not accustomed to having when it comes to desserts. The browned bits are part of the quemado (burmed) sugar crust: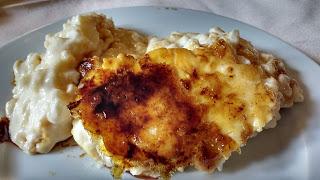 In fact, I like the food and the natural setting here almost as much as Casa Juanín in Pendones, and there is really no higher praise than that.
Restaurante La Chabola
La Plaza, 15
La Plaza 33111 Teverga, Spain
(+34)  985 76 41 36