Until last week, I had never tried Bhutanese cuisine before. In fact, I had never even thought to look for it. But when Charles, author of the wonderful blog United Nations of Food, mentioned Bhutanese Ema Datsi to me during a recent return trip of his to NYC, I knew immediately I had to try it. For me, it's the most delightful new food find in many months.
It can take the food rather a long a time to emerge from the kitchen, but it's worth the wait: everything is quite obviously freshly-prepared, and all flavors are clear and vibrant. The menu includes Indian, Tibetan, and Bhutanese specialties. Foregoing the Indian dishes for the time being, we began with shabaklep, Tibetan beef patties. These are first cousins to momo (also on the menu, naturally) – fried, good-sized flat dumplings. (More illustration of the perils of trying to take pictures of food in dimly-lit restaurants... sorry about that!)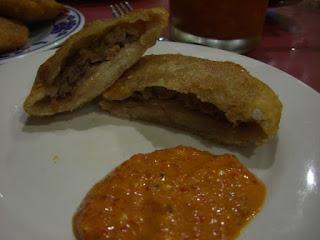 The dough is a bit thick for many sensibilities, so be sure to eat them while they're still warm – the dough can get a bit chewy when they cool down. The ground beef filling is subtly but nicely seasoned, which leads me to believe I will actually enjoy the momo here (I have yet to try any I actually like… they're always too bland for me). They're served with a side of a truly spicy red pepper sauce. Overall, delicious, and a great way to start.
Ema datsi (or ema datshi) is usually referred to as the Bhutanese national dish. I've certainly never had anything quite like before. Spicy green peppers are cooked with onion, garlic, and... wait for it... cheese. Not paneer-style cheese that is cut up and left intact in the dish, but melted cheese that forms a key element of the sauce. I have never seen cheese used this way in other Asian cuisines before. Traditionally, this dish is made with yak's milk cheese, but since yak's milk cheese is not imported to the U.S., feta is often substituted. I'm not quite sure what they use here... if I didn't know better, I'd be tempted to guess Velveeta. Some may find the suggestion heresy – all I know is that it was utterly delicious. (Most dishes are served with your choice of rice. I highly recommend getting Bhutanese red rice, which can be seen in the background.)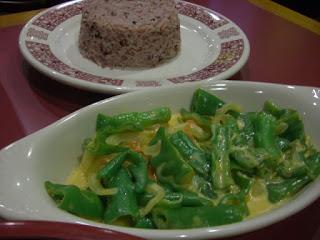 The spiciness of this dish is considerable. It's such a relief to go to a restaurant that is not afraid to serve spicy food to Westerners!
By contrast, the dish of puta buckwheat noodles (okay, you Spanish and Portuguese speakers, stop laughing!) was soothing and delightful: thick-ish buckwheat noodles (thicker, at least than Korean naeng myun) tossed with butter, scallion, and strips of omelet.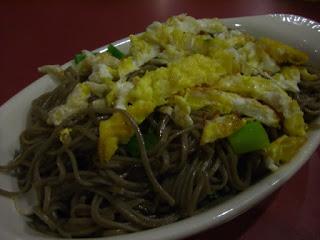 Meals here are served with a bowl of lovely, mild seaweed and milk soup: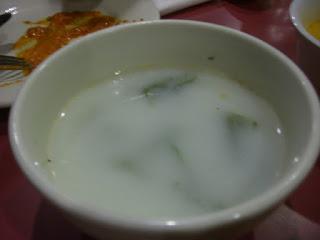 There are several Bhutanese thalis on the menu. A thali is a meal consisting of a selection of small dishes, named for the round platter on which it is served (I will get a picture of it my next visit). Upon the recommendation of the extremely helpful waiter, we chose the sekam thali, which features as its centerpiece a dish of what the menu calls "dry pork" curry.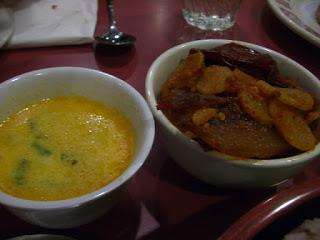 In this case, "dry pork" is cured pork belly, rather like an unsmoked, unsalted bacon. Sautéed with potato rounds in a curry sauce, it is hearty and satisfying. Also on the thali (on the left in the photo) is kewa datsi, Bhutanese potato cheese curry. This is as mild and soothing – yet rich enough to be interesting – as the ema datsi is bracing. Bhutanese red rice rounds out the thali triumvirate.
Prices are quite reasonable, and they're open until 11 p.m. every day, 12 midnight on weekends.
Bhutanese Ema Datsi
67-21 Woodside Ave., Woodside 11377
718-458-8588
(7 train to 69th St., walk 2 blocks south on 69th, then turn right)
website