In the world of watchmaking, unusual is not a common term. However, for 2012 Baselworld, this would be a fair statement – "Is that really a watch?" To show what is meant by this, take a gander at some of the most unusual watch designs you will soon see all over the world. It is probably safe to say that you have never seen anything like this before, and that is what makes these illustrations so appealing.
When you hear the name Harry Winston, you can count on a real treat when it comes to new and innovative timepiece designs. The "Harry Winston Histoire De Tourbillon 3″ is no exception. This masterpiece of creativity and bold appearance really sets you back at first glance. Looking at its shape gives an impression that you are seeing the future without the digital age thrown in. What an awesome structure with its geometric shapes and three-dimensional texture, you have to be impressed!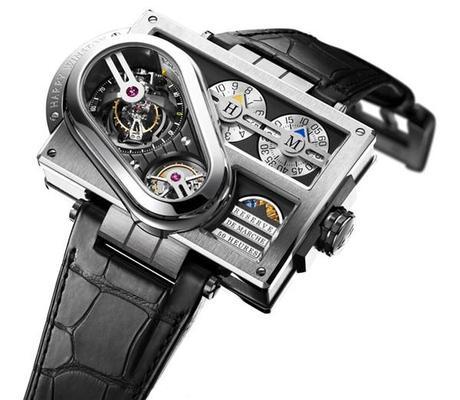 For some the challenge may be determining how to read the time, but it won't take but a few seconds with the color of yellow and blue associated with hour and minutes respectively. Getting back to this creation's splendid look, the bracelet adds some mystique to the overall appearance. A scale design from an alligator or some other reptile is a perfect match for the authenticity and unique timepiece face.
Moreover, you will find a power display at the right lower-hand corner that really is a fabulous display of genius. Using sapphires and citrines, citrus colored stones, you will find the reserve is giving away its level with these brilliant colors.
Here is another real eye-opener from Hautlence in its second generation model. With its sides being exposed by making the cover transparent, you see the inner workings of this magnificent watch. It has a bold rectangular shape with some rather unusual, but stunning, craftsmanship for the dials and face. A remarkable piece of engineering and designing shows the true character of a watch with a partial disclosure of its working parts.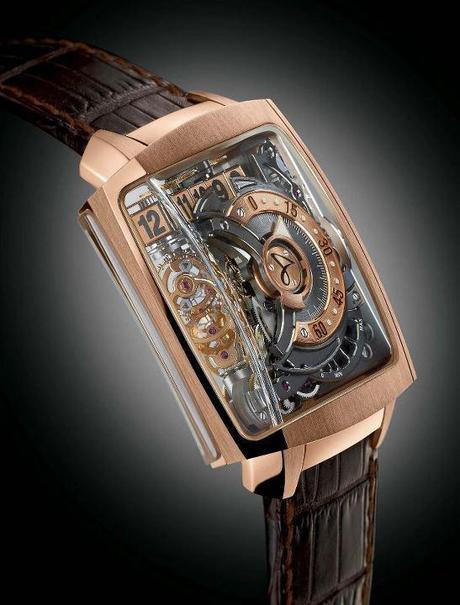 Hautlence 2.0 with a transparent front and back cover.
After gawking at its amazing frontal display, turn it over and view the remainder of this masterpiece. You can't make this up, the sheer inspiration that must have been experienced would likewise inspire those who view its detail and beauty. Congratulations to those responsible for this shockingly simple yet complex timepiece.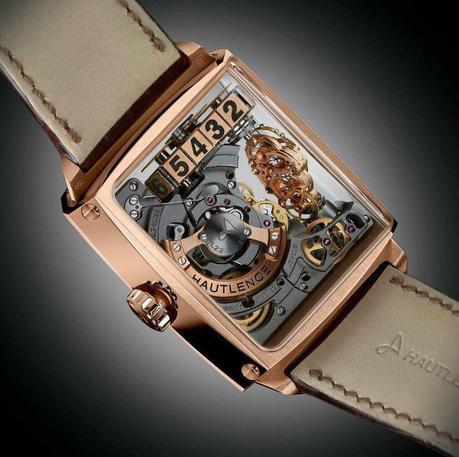 The back cover of the Hautlence 2.0.
There are plenty of examples of unique and fantastic designs of luxury watches, but it is clear that these two should receive some special recognition for an inspired creation by master watchmakers.
At Raymond Lee Jewelers, you have the opportunity to be amazed by the most beautiful and elegant luxury watch showcases. We can offer you the best discounts along with luxury you never thought possible in a timepiece. Our pre-owned watches are among the most incredible in design and complications, they are outstanding buys and we want you to experience first-hand our excellent selection and service!