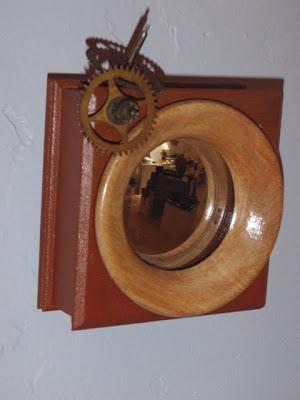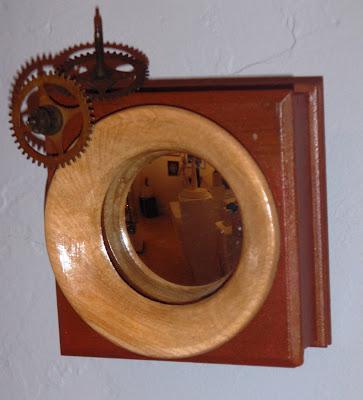 "Time Watch"
A few months ago, I was 'overly' inspired when I saw Dayna Collin's "Art Alley Studio" series or works she called "Curious Elements",  you can see all 120 of them if you go to her blog and search under

"

Curious Elements" but here you can see a good sampling.
I have to say, I was 'taken' by the entire series, and I knew I had to try my hand at it. . . . They say "imitation is the sincerest form of flattery . . ." I prefer to think of it as 'pure inspiration ". . . although I cannot say my pieces are anywhere close to the quality of her work, (her's are truly amazing) I wanted to take a stab at it, and this is the first of my five.
Please do take a look at her work, here is another post, all of it is amazing, and I am hooked. I will post the rest of them over the next few days/weeks.
"Time Watch" is a small (2"x2") box containing a convex mirror and clock gears. . .  simple, yet elegant.