Hello Everyone (who's still here) I am so sorry I have been missing in action for a few years.  I've missed all of you, and I've missed posting what I've been working on.
I'm still making art, I just haven't found the time to post consistently like before.  It all just became overwhelming, all in once.
But I'm back, and I will attempt to post images of work I've done over the past few years, by month.  This is my first post to get back in the swing of things.  Hope you follow along.
ps: I have a Facebook Art page https://www.facebook.com/ObtainiumArt/
Please follow me to see my most recent works
I'm also on Instagram and Pinterest.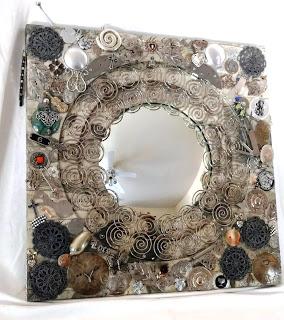 "Through The Looking Glass" wooden frame painted silver, convex mirror embellished with silver metal findings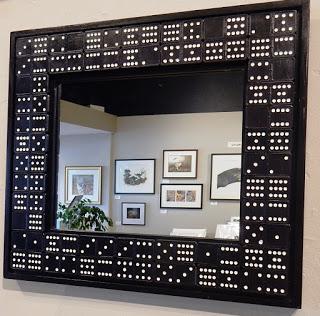 "The Meaning of Life +2" Dominoes inside a wooden framed mirror 
__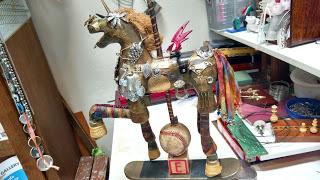 "Sereno"  Wooden horse riding a skateboard, is embellished with bling, a block and a ball.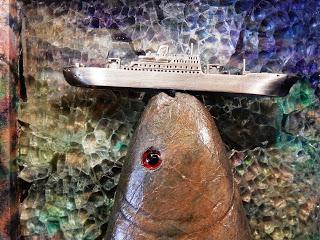 "Cruise Ship Sushi" detail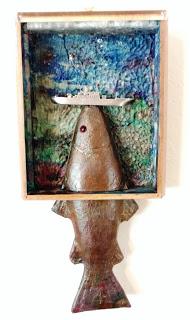 "Cruise Ship Sushi:  wooden fish attempting to snack on a small cruise ship, inside a cigar box.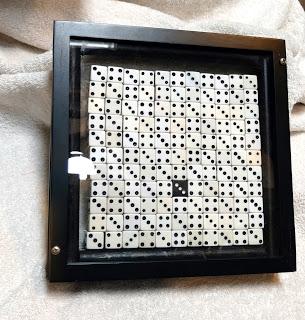 "Black and White"  dice in a frame, visible from both sides