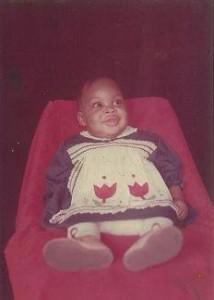 Where does the time go? This year has literally flown by so fast! It seems like yesterday when I was outside digging my car out of 22 inches of snow from the blizzard of 2011 that occurred in Feb. The picture above is me "the worlds happiest baby" LOL  according to my mom I was only smiling like that because she was waving money in front of my face. According to her, money was the only thing that would shut me up….go figure! Life was definitely much simpler then…not a care in the world! I came across this picture some months ago and couldn't believe that yours truly is creeping dangerously close to 40 but thats quite OK with me because I will forever be young at heart. Which is why that new Elmo doll is on my xmas list this year…..yes I still play with toys

As we approach the holidays also known as my favorite time of the year, I like to do a mental inventory of things I learned about myself this year and things I would like to accomplish next year. Next year I will be making some changes hopefully big ones, I think a change of scenery and climate will do me good and after 36 years in the same city, I think I owe it to myself to move around a little. I love to write and I may even decide to start that book thats been in my head since forever. I also found that I have a slight passion for photography and I plan to travel as often as I can. I want to see the world and even if I have to travel along so be it. My family loves tropical places which I love as well but I have a desire to see Barcelona, Paris, Rome and a few other places and they don't.
As far as the dating and relationship learning experience for the year I have really learned what it is I desire in a mate. December 31st will make 5 years of being single. Not by choice but because I just haven't found anyone that I felt a strong connection with and I refuse the settle. The problem I have found with black love is that everyone wants the benefits (mostly sex) of a relationship but they lack the drive and the courage it takes to commit. People would rather runaway then fix things and thats scary because no relationship is perfect. I now know that I desire someone with strong communication skills, a sense of humor, someone who has a desire to be a better person and who is self sufficient. Someone who is spontaneous who has a desire to travel and someone to compliment me just as much as I compliment them. I want to laugh at silly stuff that no one understands but us. I want to come home and cook all of the recipes out of the 20 cookbooks I own and sip on a nice glass of wine while we share the days events. I want someone to hide under the covers with  during a thunder storm, and I want someone to make me smile without saying a word your presence is simply all thats required. I want someone who can stimulate my intellect and as Jill Scott would say "give me things to think about" I want someone to co-write me! I know this shit sounds more like a Harlequin romanace novel but thats I want ….romance! Am I asking too much?
Life is funny and the the one thing I do know is that time definitely waits for no one. It was my sister who turned 17 yesterday that  said to me with her ever so perfect diction "you can't prosper without change, what do you expect to accomplish if you stay in the same spot, I'm a teenager, I can't do any better right now but you can…duh" That damn baby sister of mine is a hot mess! So as I write this post I'm ever so optimistic that things will work out and that all of my beautiful single friends and readers of this blog will find everything you desire in a mate and in life. Time has a funny way of creeping up on you and no matter what you do there is nothing that can slow it down.
So you've seen what I desire, am I asking too much?