Your friend's sagaayi is nearing…?
Off to go on a date with your fiancée..
Office Annual Meet?
With such exciting affairs around the corner…isn't it necessary to 'break the clutter' and look equally exciting?
Absolutely…Yes!
Ward off from your mind, your usual mundane look and get set for a new signature makeover in designer sarees decided by you!
You might have end number of designer sarees collection in your wardrobe. But do you ever like repeating it again?
Indeed…Not. If you're someone who is exceptionally fashion-conscious and surrounded with peers who are equally style-centric.
Give your simple to gorgeous designer sarees collection a new makeover and unleash the 'New' you!
Introducing you to the signature makeover designs..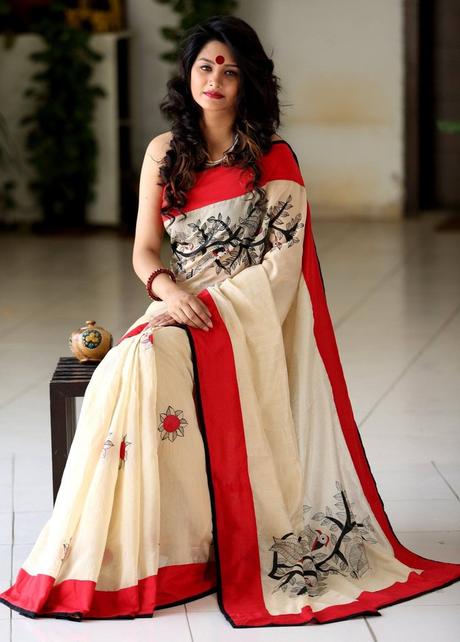 Source: google
Who doesn't like to redesign their plain white cotton saree ?
A laal Paar Saree forms a quintessential part of a Bengali women's wardrobe. Donned mainly on Durga Puja, now the saree has become inexplicably famous among the non-bengalis too.
Paired with unusually stylish contrasting blouses, the usual 'laal-Paar' is getting a signature makeover!
Style Tip:
If you're someone looking to revamp your old saree look, try out floral blotch that can be stitched on the saree border or try out batik prints on it.
You try buying a designer saree online and that too a plain one. Sometimes silk in single color and plain with no border look nice.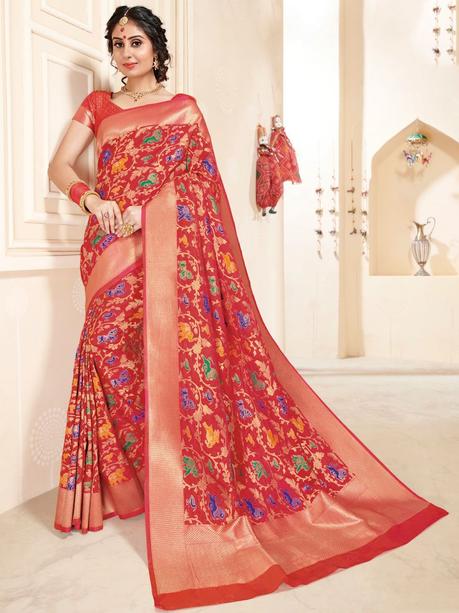 Such sarees doesn't come for dynamic use.
Pep up this look with some golden thread work embossed border and have it  stitched throughout the border of the saree, which enhances the 'gorgeous quotient' of a plain silk saree.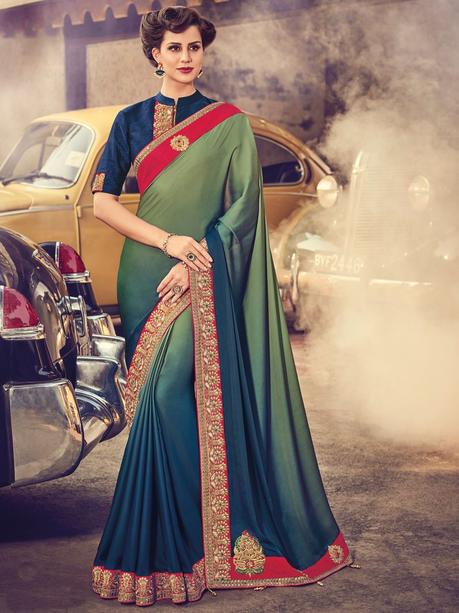 Is there any fabric which makes you look sultry and classy at the same time?
Accentuating the 'very' you and 'very' curves at the right places?
It's none other than satin which is an add-on if any contrasting blouse in kutch or golden work is paired with such saree look.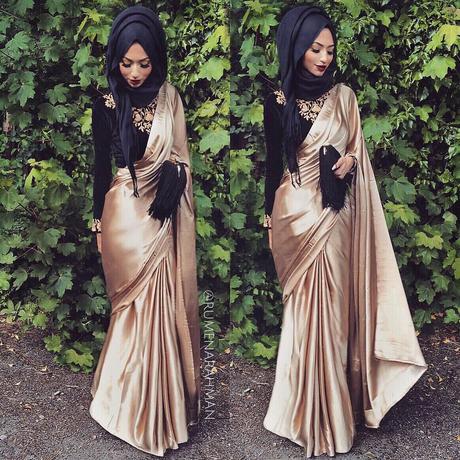 Source: google
Hijaab as an accessory looks even more appealing and surreal enhancing the look of the saree.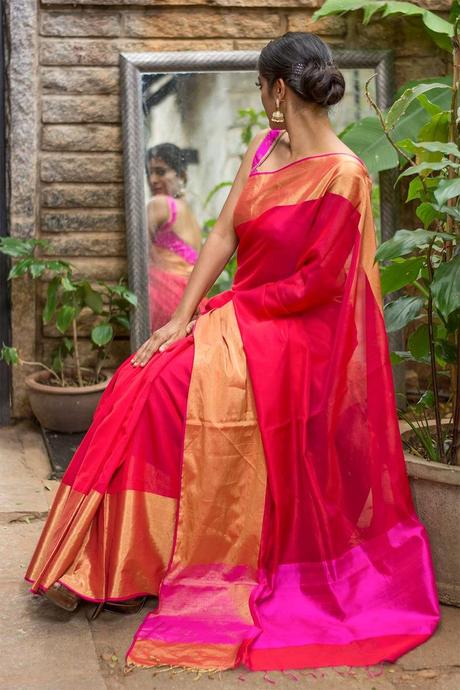 Source: pinterest
Chanderi prints are such that, they instantly add a boost-up to your overlook.
Why not try a half-and-half saree with chanderi work in pastel shade and contrasting plain red or green in mid-pleat-section of your saree.
Even a golden butti work chanderi blouse over any single-coloured saree spruces up the look of your saree.
Henceforth, either you buy designer sarees online or make your own designer saree – the ball of creativity is in your 'court'.
Showstopper moment at your friend's sagaayi or your office annual meet is just few days away!
Work on your style to make heads turn and tongues wag seeing you 'get high' on style.