Maxi dresses are a must-have in every woman's wardrobe. These are the types that will add a lot of variety as well as elegance to your dressing style. But a few people do not find the dress to be intrinsically chic. There are various ways of doing the same and this article is exactly about that.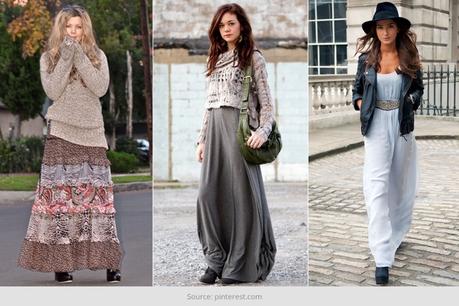 Best ways to Style a Maxi Dress
#1. Use a Belt
Belt is one accessory that is really common these days. It is also very much in vogue. You must have seen a lot of celebrities styling their outfit with a chic looking belt. This goes a long way in helping the dress to stand out, while also making you look stylish and elegant. In case of maxi dresses too, things are not different when it comes to wearing a belt. A belt can make for a great accessory. Not only wearing a belt around the dress will accentuate your thin waist and cold curves, but it will go a long way in helping the dress to stand out. In most cases, the maxi dresses are single toned. So, if you wear belts along with these types of dresses, the monotony of the dress can be broken. Thin belts look better on girls who are petite, while girls with a wider frame should ideally opt for thicker sized belts.
#2. Use a Blazer
Blazers are not just meant for a formal wear. Blazers can be spotted with mini dresses, maxi dresses, as well as different other type of dresses to look stylish and make the dress stand out from the crowd. When you use a blazer for your maxi dress, you can be rest assured that the same can be used as a formal dress for your office too. You can make a statement by using the blazer with your dress. Blazers are very much in these days and there are more designs in a blazer itself than you could have ever imagined. Choose something that goes well with your maxi dress. The blazers can also be used to make your dress stand out in the crowd. You sure will be giving a fashion statement by pairing a well -suited blazer with your maxi dress. You can use both jeans jacket as well as leather jackets to style your look.
#3. Accessorize Well
How often have you heard that accessories can make or break your outfit? Well, you hear that every time, don't you? The same applies to maxi dresses too. One of the best ways of styling your maxi dress and look chick in that outfit is by using the right type of accessories for the right occasion. You can choose accessories of any kind. There are no set rules for choosing accessories that go with your maxi dress. The only thing that you should keep in mind is that it should be as per the occasion that you are wearing it for. For example, if the dress is such that the neckline is beautiful and stands out, you would probably like to go with a beautiful necklace that will best complement the dress. They can be bright coloured which match your dress or of neutral colours.
#4. Keep It Simple
Making a maxi dress look chic in no way means that you cannot go simple on the dress. Being simple is one of the best and most favourable things to do. You can end up looking chic while keeping it extremely simple. In order to style your outfit, you should wear minimum accessories. As a result, the most important thing in this type of style is the dress itself. You should select the best dress possible, something that not only gives you a lot of comfort but also goes a long way in helping you look nice as well as elegant. Maxi dresses come in so many styles, fabrics, and pattern. Depending on your mood, the season in which you are wearing the dress, as well as the type of occasion for which you want to wear the dress are the factors to be considered and you are good to go.
#5. Colour Block
Sometimes, maxi dresses can give a real monotone look. If you want the dress to stand out and also want to play around with different colours as well as other designs, you should always try to add a tinge of color or two to the dress itself. There are many ways of doing the same. You can use colourful accessories, or even beautifully printed jackets and other things.
Thus, the above are some of the various ways in which you can make the maxi dress of yours stand out while also looking chic and elegant at the same time. Maxi dresses are very much in and by following some of the above-mentioned designs, you will end up looking really chic and people may try to copy your style. So, dress confidently and try to make the most of that pretty dress of yours.