It's that all too rare occasion when I have completed a new book. Hurrah! This one is Future Warrior, (Time Rats Book 3).
Normally I post when I reach the magic 60,000 word count, my personal point of no return; but perhaps with this novel being the last in a trilogy, I found the final few chapters hard to write so went a bit quiet. I had a particular struggle with the villain's come-uppance, and I'd tell you about it except it would be a terrible spoiler. You'll probably understand why when you read it. Here's the ebook cover: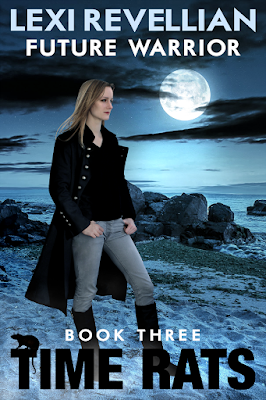 In this book the timeline has switched and Liam Roth, instead of being the rich and successful owner of a vast internet gambling empire, is struggling to make ends meet working as a barista and living in a grotty high-rise. And you get to meet Quinn's son, Cato, in 2063.
As with the first two Time Rats novels, I've put it on Kindle Scout for a thirty day campaign to see whether Kindle Press wants to publish it. If they do, and you've nominated it, you will get a free copy of the ebook when it comes out. To nominate TR3, go here.
If it's not selected I'll self-publish it immediately, and have an introductory price of 99p for a few days. Sign up for my

mailing list

and I'll let you know. (I should say my mailing list is only ever used to tell fans I have a new book out.)