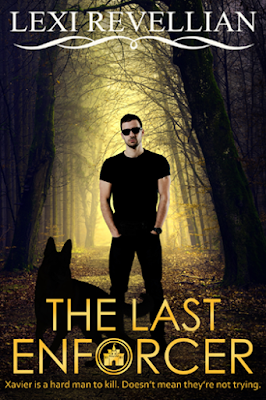 And here it is -

The Last Enforcer
, and you can buy it
here
in ebook or, in a day or two, paperback. For a limited time, the ebook is on sale for the introductory price of 99p and 99c.
Keen-eyed blog readers will notice I have changed the title and the cover since I last posted. I loved the original title,
Somewhere
Beyond Right and Wrong
, but the book changed as I wrote it and that title no longer fitted.
The trees photograph is by Johannes Plenio, and was free on
Unsplash
. Thank you, Johannes.
I spent hours hunting for a suitable image of a man. Most stock photo sites have very poor search engines. Put in 'handsome tough man' and you will be offered anything but. I know there is some current confusion about gender, but if I type 'man' into the box that's what I'm after, and it's no good offering me photos of women. Or, bizarrely, the moon (that was Jumpstory).
I found this image on
iStock
in the end. Their system is better, because once you've found a ballpark image you can click on
Similar Content
and gradually work nearer to what you want.
This is my blurb (subject to change):
A gripping dystopian romance
Cadence struggles to make ends meet in the medieval-style Outer City. While scavenging in the outlands her life is saved by Xavier Drake, an enforcer from the high-tech Inner City. Like all enforcers, he is cold and arrogant. But when she starts working for Inners and they meet again, she begins to think that maybe beneath his unforgiving exterior is a decent person…
Xavier has problems of his own. To expiate his father's crimes, he was compelled to undergo the brutal training to become an enforcer. Ten years on he discovers the truth about the events that destroyed his family and happy childhood and goes rogue. The City's rulers decide to eliminate him.
Xavier is drawn to Cade. But can he survive attempts on his life, get revenge, and learn to trust again – without putting her in danger?
The Last Enforcer