All those regular readers of this blog whose lives have not been the same since I stopped writing it will be pleased to hear I am celebrating - on my own, times being what they are. I have reached my personal point of no return i.e. 60,000 words, with the current WIP, my tenth novel. Yay!

It's called Somewhere Beyond Right and Wrong, from the poem by Persian poet Rumi: "

Somewhere beyond right and wrong, there is a garden. I will meet you there"
. This title is subject to change, possibly to

The Last Enforcer

.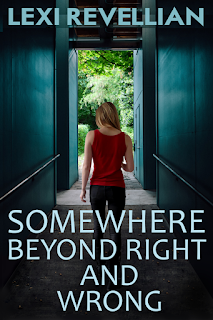 It's not an easy book to describe - I'm going to have a terrible job writing the blurb. 
My heroine Cadence lives in the Outer City, and gets a job working for the Inners. Outers lead a medieval sort of life, while Inners have a lot of high tech, including nano-assemblers which enable them to make anything they want.
I am very fond of my ruthless and damaged hero, Xavier, an enforcer who is not happy in his work.
"You despise Outers, don't you?"
"I despise everybody."
(I can relate to this, particularly lately.) The book has been great fun to write, and I hope readers will find it fun to read when I publish it in the near future.
If you want me to let you know when it's released sign up here - I will only ever email you on those rare occasions when I have a new book out.