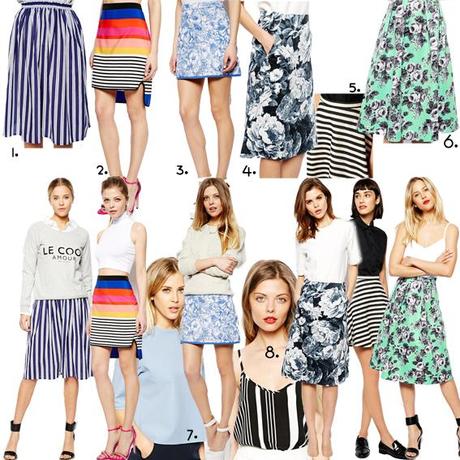 Still time for sales.
Looking for midi skirts and top, cropped or not.
This year I took it easy. I bought something, of course.
1. Striped midi skirt     —–      2. Colored Pencil skirt     —–     3. Floral mini skirt     —–    4. Floral painted midi skirt       —–                          5. Striped circle skirt     —–     6. Floral quilted midi skirt     —–     7. Structured top     —–     8. Striped B&W top

Then I pondered, searched and sketched possible outfits combinations.
Today, not without a little dose of girly anxiety - almost everything is marked with "low in stock" or remaining time is xx minutes, I share here my list entirely from asos, hoping for some last minute advice.
❤︎❤︎❤︎
Ancora tempo di saldi.
Alla ricerca di midi skirt e top, cropped o no
Quest'anno me la sono presa comoda. Qualcosa ho comprato, ovvio.
Poi, ho riflettuto, cercato e appuntato combinazioni di outfit possibili.
Un po' con quell'ansia tutta femminile di fare presto perché su quasi tutto c'è la scritta "low in stock" o tempo rimanente xx minutes, condivido qui la mia wishlist interamente asos, sperando in qualche consiglio dell'ultimo minuto.