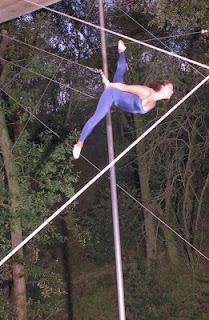 Flying in Sonoma
Adventure to me used to mean flying into the heavily militarized
Srinagar
, capital of
Kashmir
, and grabbing a cab to Gulmarg—which lies three miles from the line of control between India and Pakistan— for Himalayan skiing. Or white water rafting on the Teesta River in Kalimpong, a remote village tucked away in Sikkim, India. Or bouncing around Bali in the erratically-driven jeep of the
Bali Animal Rescue Centre
founder, rounding up stray dogs.
Not long ago, my favorite hobby was
flying trapeze
.
But I'm grounded now—hopefully figuratively as well as literally. Lately my biggest adventure is walking my dog along the gorge in Scranton, PA's, Nay Aug Park.
Of course, I feel sorry for myself. It's not fun watching the life I had, filled with travel, disintegrate into six consecutive months of working a 9 to 5 job. In Scranton. Actually, in Pocono Pines, which is a 50 minute drive from Scranton, which is where I now live.
Fortunately, this region is not devoid of adventure. In fact, the Pocono Mountains Visitors Bureau markets the area as an adventure travel destination. With that in mind, I've put together my top 5 adventurous things to do in Northeastern Pennsylvania during the summer. I haven't tried any of them yet, so check back for updates once I do.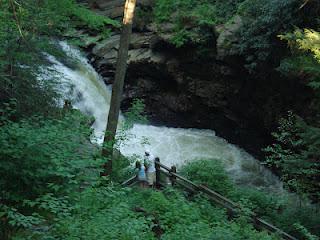 Scranton's Nay Aug Park

Zip lining at Camelback Mountain or Kittatinny Canoes. Camelback boasts the longest zip line in North America, while Kittatinny claims the highest.
Treetop Adventure Course at Skytop Lodge or Camelback. Modeled after the suspension cables and rope bridges developed to study the biodiversity of Costa Rica's rain forests, treetop courses give participants an adrenaline-pumping bird's eye view of native wildlife and foliage. Securely fastened into safety lines, participants swing from tree to tree and traipse across swaying suspension bridges.
Whitewater rafting along the Delaware and Lehigh Rivers.
Horseback riding at Malibu Dude Ranch, Happy Trails Stables or Triple W Riding Stables. It's tough for novice riders to convince stables to allow the horses to do anything other than clomp along slowly. But it can be done. For my farewell to San Francisco gift, my writer and rider friend Sarah Sweedler took me horseback riding near Half Moon Bay. Our guide let us gallop on the beach. It was awesome. And also slightly terrifying.
Hike the Appalachian Trail. I have a feeling that traveling the entire trail by foot is one of the many things in life that sounds way funner than it actually is, but a two-hour hike is a manageable adventure anyone can appreciate.