Another massive country music festival announced their 2014 line-up this morning.  This time just south of the border in Brooklyn, Michigan.  Faster Horses, arguably the largest country music festival in the eastern USA (Stagecoach being the largest on the west coast), was launched last year with Dierks Bentley, Luke Bryan and Jason Aldean as the headliners and acts like Chris Young, Thomas Rhett, Florida Georgia Line and Thompson Square, to name a few, rounding out the line-up.  After a kick off like that you can imagine that the anticipation over the 2014 line-up would be intense.  The event's website simply had a countdown until this morning and just after 10am the curtain was lifted, and in no time the overwhelming traffic took the website down, if only for a few minutes.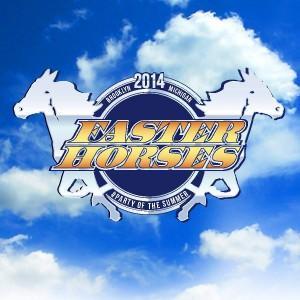 Faster Horses Festival 2014
Headlining the 2014 event are three of the biggest names in country music, Tim McGraw, Miranda Lambert and Keith Urban.  In all 30 supporting acts will also take to the two stages at the event, half of which were announced this morning as well.
The supporting line-up announced so far is as follows:
Austin Webb
Cassadee Pope
Kip Moore
I wouldn't be surprised to see a few of those names, particularly Jana Kramer and Little Big Town, get added to the 2014 edition of Boots and Hearts, Canada's largest Country Music festival as they announce the remainder of their line-up in the coming months.
Faster Horses has been on my festival bucket list since it was launched last year, will I be there in 2014?  That remains to be seen but either way I'll have full details on remaining acts and details as they are announced.
Here is this morning's launch video!
For more information visit: www.fasterhorsesfestival.com or https://www.facebook.com/fasterhorsesfestival