The latest Tiger Woods news is that the former number-one golfer in the world has slipped yet again in the rankings, this time to 33rd position. Many fans are watching Woods' decline saying that his days of winning on the PGA Tour are over; others feel that, at thirty-five, there is still plenty of golf left to be played. Either way, Tiger Woods is still a winner in golf. Here's how:

"Tiger Woods PGA Tour '12: The Masters" is considered to be one of the best selling golf video games of all time. Woods has put on his motion capture suit once again in order to create another blockbuster video. The name? Not yet determined but maybe EA Sports can call it "The Year of the Tiger."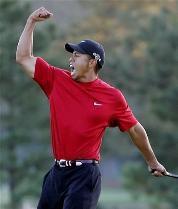 If he can't win on the golf course, perhaps Woods can win in cyberspace. Unfortunately, the only shots Tiger says he is getting good at are "block-slices to the virtual marshals." Perhaps it's that new Sean Foley swing...
Woods is also leasing a 10,000 square-foot palatial Mediterranean "business command center" to be closer to his Jupiter home. It seems obvious that Tiger is no longer suffering from money problems.
Tiger Woods is looking to gain a spot on the U.S. President's Cup Team. If he can't win as a single, perhaps he can solidify his return in Ryder-Cup format. The only one stopping his comeback here (and rightfully so) is Fred Couples who demands that members on his team have several events under their belts before being selected.

Will Woods win once again in a sport he once dominated? Anything can happen with the right mindset. As Tiger Woods blog stated, "I hit more solid shots than people might think and more importantly, I had no problems with my knee and Achilles tendon. Right now, I'm healthy."
Tiger, it's just a matter of trust.