If you want to make a splash in the fashion world you make it in Paris. If you want to make a splash in Paris you do it on Champs Elysées.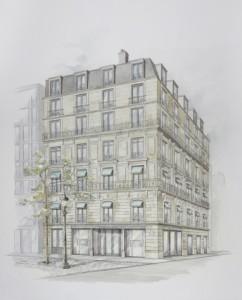 via Forbes
Well, Tiffany and Company has done both with its announcement that it is building a multi-level flagship store in the French capital, and at an exclusive address.
What? You say, hasn't Tiffany had a presence in Paris before? Actually they have three small retail stores throughout the Paris area but this latest announcement has them establishing a big foot print in the fashion conscience city and will help in establishing Tiffany as a worldwide luxury brand.
Tiffany began in 1837 with a single store in New York City. In 1845 Tiffany's first "Blue Book" was published, which is still being made available today. It was at the Paris 1867 World's Fair that Tiffany came into prominence by winning an award for its silverware.
The new store, scheduled to open in 2014, will be spread over 10,000 square feet over several floors and will not replace, but become the fourth store in Paris. It will be by far the largest.
Tiffany is celebrating their 175th year in business this year and apparently they are celebrating in a big way with the announcement of their new mega-store in Paris. While we in the United States may already accept Tiffany as a world-wide brand, this move by the company is clearly meant to establish Tiffany as a major player in the worldwide markets of fashion, design and silver.
Artist rendering of the new 10,000 square foot multi-level Tiffany store to open in Paris, France in 2014.
Raymond Z for Raymond Lee Jewelers, South Florida's premiere source for buying and selling luxury watches and designer jewelry.