1. We've been hit with an unrelenting heat wave this week, and since our apartment has virtually no A/C, I'm beginning to succumb to the milder symptoms of heat exhaustion. Hopefully it lets up before the dementia kicks in!
2. In the meantime, I've started watching Glee and Jericho on Netflix. I also watched the Dinotopia miniseries, mainly because it was written by the same guy who wrote The Tenth Kingdom and Snow Queen, which are classic movies of my childhood. Not as good as either of them, in my opinion, but good for staving off heatstroke.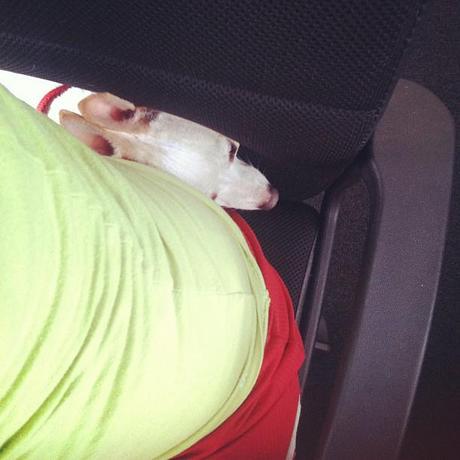 3. Mel has a new favorite position: lumbar pillow. Not much more to be said about that.
4. Sunday I had a chance to go to the Larchmont farmer's market for the first time with some friends. I didn't buy anything, but I did support some canvassers by signing a petition to ban the use of conversion therapy on minors. They were working with Equality California, so go check it out of you're interested in helping out this great cause!
5. We all need to take a moment of silence for Little Mousey, who died a senseless and unnecessary death yesterday.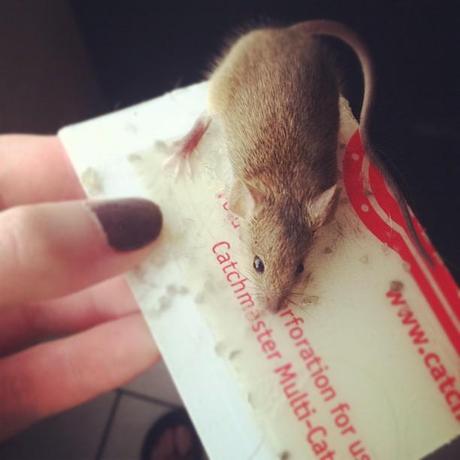 At first, I was excited that one of my roach traps had caught a mouse, because some of my fondest childhood memories involve taking the mice caught in the no-kill traps in our garage, and releasing them into the woods by my school (we didn't have cable). Then I realized, to my horror, that the mouse's back leg was bleeding and had almost broken completely off in its struggle to free itself.
Naturally, I took the rational course of action and called my mother in a fit of hysterical crying:
"OH GOD OH GOD THERE'S A MOUSE ON THE GLUE TRAP THERE'S A MOUSE AND IT'S DYING AND ITS LITTLE LEG IS ABOUT TO COME OFF OH GOD IT'S IN SO MUCH PAIN HOW DO I KILL IT QUICKLY AND PAINLESSLY OH GOD OH GOD WHAT DO I DO!" (it was all very reminiscent of this episode)
So she told me to cover it up with something and take it out to the trash where I wouldn't have to watch it die, so I did. I spent the better part of a day beating myself up over it and seeing visions of poor Little Mousey being eaten alive by other dumpster critters. It will probably be a few days, maybe even weeks, before I completely get over the trauma D:
6. Know how I'm slowly discovering I'm allergic to pretty much every substance under the sun? Well, you can add honey to that list. I found out a few days ago that the burning, itching sensation I get in my throat when I eat honey is not, in fact, a universal experience. It also means that I'm several times more likely to also have a bee venom allergy. Time to go get tested…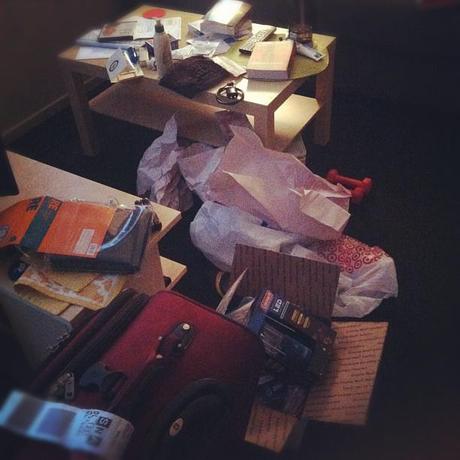 7. Andy gets back from London in 5 days, which is about how long it should take me to get the apartment back in order after living like a bachelor for a month. I'm excited to have her back, though!