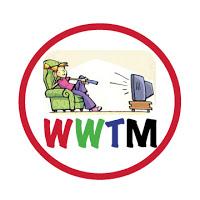 The answer to Thursday's Trivia Question: Thursday nights at 10pm in 1984 on NBC was...Hill Street Blues 
FIRST FIVES:  Allison Shapiro Mike O'Dea, Bill McLaughlin, Neil Moffatt & Jonathan Spaet Honorable Mention: Lillian Doremus
THE NUMBERS
Wednesday's Broadcast Top 5
American Idol-FOX 4.0/13.2
Modern Family-ABC 3.4/9.5
The Middle-ABC 2.3/8.0
Criminal Minds-CBS 2.2/10.3
Law & Order SVU-NBC 1.8/6.6
Wednesday's Cable Top 5
Duck Dynasty-A&E 2.9/6.6
American Horror Story-FX 1.8/3.3
Wahlburgers-A&E (I knew this show would do well-lets see what happens next week)
Big Bang Theory-TBS 1.4/3.4
Workaholics-Comedy Central 1.0/1.4
Wednesday's Top 5 Nielsen Twitter Ratings
American Horror Story-FX 143,900 Tweets
Workaholics-Comedy Central 143,900 Tweets
American Idol-FOX 101,700 Tweets
Pro Bowl Draft-NFL Network 58,100 Tweets
Duck Dynasty-A&E 34,400 Tweets
THE SHOWS
Parenthood
Don't you think that Eric and Tami Taylor should be best friends with Adam and Kristina Braverman? If the four of them got together they could take over the world. I only wish that The Taylors had a son instead of daughters, that way their son could marry Hattie and make a super couple. It would be crazy.  Of COURSE Kristina is going to start a school. It makes perfect sense and she's totally going to do it. I know it. Joel and Julia breaking up is tough, but gotta admit, I didn't shed a tear, until Julia went home to tell her parents. The scene where they told the kids wasn't that great and doesn't only take 10 seconds. I get that it's TV and we only have 42 minutes, but it wasn't as real as the rest of the show. They should have given it more time. Every scene with Max and Hank has now become so interesting hasn't it? They're both helping each other because they're both different versions of the same person. So well done. Also well done, was Zeek's realization of how much he needs his wife and what he needs to do to make her happy. Of course the second they decide to put the house of for sale is the second that Crosby and Jasmine need to move in and the second Julia shows up needing to "come home". I'm betting the house actually does get packed up and sold. Can you imagine the "very special episode" memories that will be found in the attic? Damn this show is good and now it's gone until 2/27. I miss the Braverman's when I don't see them every week at least will have
the Olympics
.
Parks & Rec
Now that Amy's back from the Golden Globes we got a great, classic
Parks & Rec
episode. The Whine and Cheese club alone was worth the past few episodes of mediocrity. I could watch Ron not listening to his co-workers vent about work over fine wines and cheeses 24/7. His discovery of the Ipod and how incredible it is was...hilarious. My realization that the not only did the  Whine and Cheese club read Men Are From Mars, Women Are From Venus but they understood it enough to recommend it's methodology to Chris for helping Ann through her pregnancy. Brilliant and hilarious. Also hilarious, the entire Swiss Chard storyline and the conversation of how gross Chard is.  "Chard is celery with B.O." Chard tastes like kale took a dump on spinach. OMG it SO DOES! How funny were Andy's kids songs. Here are a few that didn't make the episode http://www.nbc.com/parks-and-recreation/video/deleted-scene-andys-kids-songs/n45462/ You know he's going to make millions on booger and fart songs, t-shirts and toys now that he's found his true calling. I knew it was just a temporary Golden Globes lapse in focus...they're back.
Vampire Diaries
There's always some way to solve all of the crazy supernatural problems in Mystic Falls. Katherine's dying for weeks now...weeks. The gang couldn't be happier to see her go. Well maybe not Stefan, but everyone else was toasting her demise and counting down til her last breath and then...of course, Nadia figured out how to keep her around. Of course she's not dead. We always need the villain around don't we? Once Klaus and Rebecca left town and spun off and all the other demons, vampire hunters etc. were gone, we needed someone to hate and of course now all's right in the world. Katherine lives IN Elena with crazy black scary eyes. What thats going to do to Damon's sex life is a mystery at this point, but I'm guessing that the second he experiences this crazy pseudo threesome he's going to know that something IS UP! Crazy good times with Klaus and Caroline in the woods right?  Poor Matt, locked in a safe until Rebecca broke him out for a visit. One complaint...Jeremy Gilbert is hot, why don't they let him just be hot. Why give him the ugly hair again? Julie Plec...notes for all shoots...make sure all hot guys always look hot!
Nashville
So many big stars are jumping on the
Nashville
bandwagon. This week it was Zac Brown and his knit cap and Jay DeMarcus from Rascal Flatts. Zac had Scarlett on stage to sing "Free" with the band and Jay bumped in to Gunnar, got a hotel room and wrote a song. Is it me or is song writing made out to be really easy? Singers just say to their friends, "Hey, wanna write a song today?" and they just write a song. It was like that in the Carole King play too. Go to work, write a song and go home. Scarlett and Gunnar wrote a hit song in a day, Rayna and Deacon too. When Rayna and Deacon were writing though, there was that chemistry, it's undeniable and you could see that they know it. They're so scared of it that they both decided they can't ever do it again. Rayna's going to go be a couple with Luke and Deacon's going to go his own way and sign a crappy record deal. Juliette's fans still hate her for not believing in God even though she does. Since all her fans blew her off, she put on a wig and some glasses and went out with Avery into the street to literally "sing for their supper." Of course crowds gathered around and didn't recognize her like Hannah Montana, and Avery said all the right things that SHOULD get him some action, but I think that'll happen next week. Ultra, Ultra mean Jeff, told Juliette she's white trash garbage and has to go beg her fans forgiveness, I'm betting that'll never happen. Juliette's a lot of things, but she's no beggar.
Comedians in Cars Getting Coffee
http://ccc.crackle.com/#cmpid=3651
SPOILER ALERT
: If you haven't seen Captain Phillips or Gravity yet, don't watch this weeks episode of CiCGC.
Jerry has truly mastered monetizing the art of doing nothing. I wish I had discovered that this was something masterable and done it years ago. Damn that's a talent all it's own. I've never seen Todd Barry before, I've never heard of Todd Barry before and after this episode I probably never will again, but because of Todd's lackluster personality, Jerry shines. This was a Jerry episode more than anything else. I never EVER thought of Jerry as a guy that would wear a NYC scarf knot, but apparently he does and he sort of pulled it off. This was more shocking to me than this weeks sneaker choice. Still worth watching.
THE OTHER STUFF
-Patrick Dempsey and Ellen Pompeo will be back for 2 more seasons of Grey's Anatomy. More Derek, more whiney Meredith I can't believe she hasn't been killed off yet. I couldn't stand her so much, I gave up the show. 
-HBO cancelled Family Tree and Hello Ladies, after just one season and is most likely renewing Getting On. I'm not one to pat myself on the back, but I was right on the money with all 3 of these shows so the networks really should just ask ME! The two shows they are cancelling both star Eurpoean actors and are both shows I just didn't get and didn't think were funny. See a theme here? 
-TiVo put out a great report about social media and multitasking yesterday. Here's what I learned: 
Despite all the multitasking, most people actually actively watch TV when it's on

76% of respondents said that their primary focus when the TV is on is...the TV

45% of TiVo users and 35% of non-TiVo users said their attention was directed ONLY towards TV and nothing else.

Among the multitaskers, 61% are using smartphones and 6% are using a portable gaming device. What like a Game Boy? Mattel Football? What are they using? 

Only 27% of respondents report using the Internet to find content related to their fave shows. Most online activity occurs AFTER watching with 14% doing it immediately after and 32% sometime during the following week

Shockingly most respondents are NOT using the Internet to connect with others to discuss TV shows. 61% of TiVo users and 55% of Non-TiVO users said they only want to discuss TV with people they know and not strangers. 

Most respondents notice, but aren't interested in hashtags during shows

25% of viewers said they avoid the Internet until they watch certain episodes to ensure missing spoilers

73% of respondents report that some shows are so tricky to follow that they have to focus completely like Game of Thrones. NO DISTRACTIONS 
Friday's Trivia Question: The Grammy's are on Sunday night. What song won Song of the Year last year? 
Have a great weekend!
WWTM-Kristy
Like me on Facebook at Watching Way Too Much Follow me on Twitter at
[email protected]
http://watchingwaytoomuch.com
[email protected]