Today I'm going to talk about one of my favorite brands i've come across since i've started blogging, when it comes to products, I find that there are only a few that really really impress me, the same goes for brands too, the more I love a brand, the more passionate and the more I can write about them, that's exactly the way I feel about Thule, you might have seen my previous posts last year introducing you to the brand and a few other bits too, all of which you can see below!
Thule Ride Along Review
Thule Ride Along Mini Launch
Active with Kids


I've also selected my top 6 products below!



Today's post is specifically aimed at one of their latest products, the Sapling Elite Child Carrier! Thule as a brand always have active families in mind, and that's exactly what you can expect from this. 
Thule has fused together passionate outdoor enthusiasts, their accomplished Swedish engineering team and seasoned industry experts to create a global team that can design and build backpacks that truly raise the bar. With Spring & Summer coming up very soon, you might be thinking about getting out and about with the family more, whether it's little local walks or even proper family hikes, the Thule Sapling will be just what you will be wishing for, especially with little ones under the age of 3!
Since 1942, Thule has been helping outdoor enthusiasts transport their gear safely, easily and in style. Now they've gone and outdone themselves yet again by creating innovative and technical backpacks! And of course they are developed with the same goal in mind: helping people live an active life. Thule know exactly what is needed for active families and their products, the perfect fit, ease of use, safety tested, premium quality and contemporary styling too! Everything you could imagine needing, they've created for you.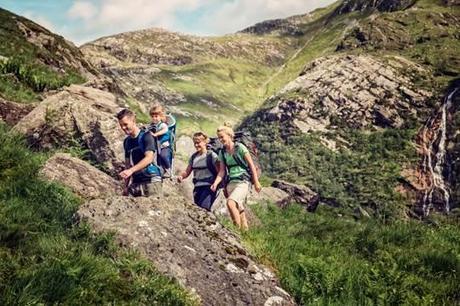 1 / 2 / 3 / 4 / 5 / 6
"Over the last 3 years we have leveraged our internal design and development skills combined with that of some of the most experienced independent backpack design experts in the field to create a completely new product family of Technical Backpacks." says Magnus Welander, CEO of Thule Group.
The result of all this hard work is the creation of the outstanding Thule Sapling Elite Child Carrier. This backpack carries your precious cargo safely and comfortably on the trail. It's also effortless to change the carrier between parents, as you can make simple torso and waist belt adjustments in a matter of seconds. The daypack features a plush, height-adjustable cockpit to keep your child comfortable during a long day on the trail, while the roomy hip belt protects all your essentials close at hand, eliminating the need to put down the carrier to reach for those all-important snacks and toys. With a focus on safety and comfort, carrying your precious cargo just got a whole lot easier!

The Thule Sapling series comes with 25 years warranty and will be available from selected UK hiking shops February/March!
Visit Thule for more info!
x