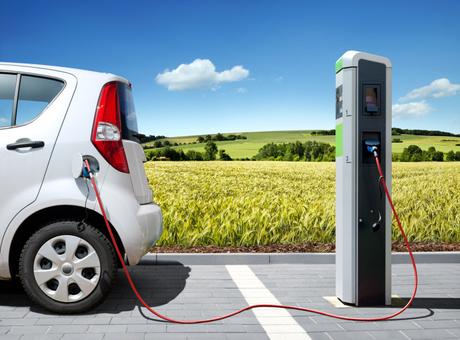 Standard
Electric cars have been heralded as the cars of the future, our current solution to the United States' dependence on petroleum products. The irony here is that electric automobiles were actually built and sold before petroleum powered automobiles. (The first electric vehicle was built in 1842, compared to 1864 for the first gasoline powered one.) The combustion engine over took the electric automobile in the early 20th century due to their high top speeds and a much higher range of travel on a single tank of gas vs an electric charge.
Nothing ever really changes, does it? People still complain about the relatively short range of fully electric vehicles nowadays. And back on track.
Yes, electric cars are seen as environmentally friendly due to the lack of carbon dioxide and other chemicals spewing from the exhaust pipe and into the atmosphere as you drive. Electricity is indeed cleaner, but you're still using fossil fuels to power your car here in America. We don't have many nuclear reactors or other large scale alternate power sources. A better solution is needed in the long run. Maybe we should burn all of our trash like Sweden? They've started to import trash from their neighbors to power their waste-to-energy generators.
And, back on track again. Sorry, there are so many interesting avenues we could follow.
One way the governments in the US are incentivizing EV purchases (as you probably already know) is through tax rebates to help offset the additional cost of your new car purchase. But did you know that there are at least 10 states that charge you extra fees for Plug-in Electric Vehicles (PEVs)?
Yep, 10 states. And they all have an annual fee that you'll pay above and beyond the 'traditional' registration fees paid to your state each year. Ranging from $47.50-$235 a year, that's a pretty hefty sum to pay yearly. Indiana has a legislative plan in the works that includes a proposed $150 annual fee for electric vehicles, this would make them state number 11.
Is your state one of them?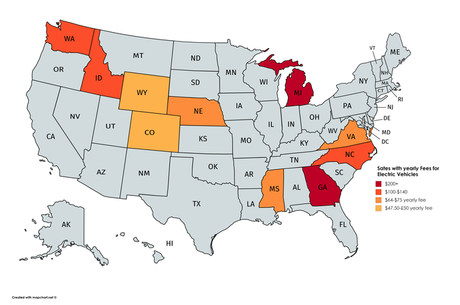 Colorado
Law: H.B. 1110 (2013) $50 annual fee
Georgia
Law: H.B. 170 (2015) - $200 annual fee
Idaho
Law: H.B. 312 (2015) $75 - $140 depending on vehicle
Michigan
Law: H.B. 4736 (2015) varies from $47.50- $235 depending on vehicle
Missouri
S.B. 619 (1998) - $75 annual fee
Nebraska
L.B. 289 (2011) - $75 annual fee
North Carolina
S.B. 402 (2013) $100 annual fee
H.B. 97 (2015) increased the fee to $130
Virginia
S.B. 127 (2014) $64 annual fee
Washington
H.B. 2660 (2012) - $100 annual fee
Wyoming
H.B. 9 (2015) -$50 one-time fee
H.B. 2 makes the fee applicable every year