!!!'s peppy, groovy duet "One Boy/One Girl" sure does bring back a lot of memories. Remember the time when bands started shelving their guitars in favor of straight-up dancing? It was a historic turning point in music, but it's ultimately become (for the most part) forgotten. Stirring Sacramento dance collective !!!– pronounced as "chik chik chik," in case you need reminding– helped usher in a moment which, at the time, felt like nothing short of kismet; thanks mostly to James Murphy and his freshly-formed DFA Records, all of New York City's coolest kids hit the dance floor at the exact same time, and it was glorious.
!!! were in New York at this time, and although the city is a very different place than it was just ten years ago, they've invoked some of these old feelings on their fifth and latest LP, THR!!!ER. In a way, this circa-2002 time can be summed up with a great, poignant line from "Even When The Water's Cold,"  THR!!!ER's opening track: "She remembers it fondly, she doesn't remember it all/But what she does she sees clearly." The dance-punk era may be officially over, but what past lessons can !!! translate to the present?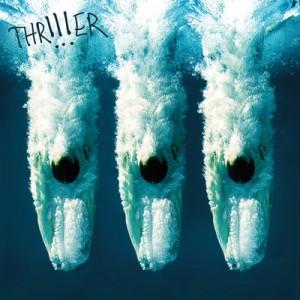 Thankfully, THR!!!ER makes the transition quite easy. There are plenty of nods to !!!'s previous releases– the sleek, introspective jamming on "Get That Rhythm Right" would undoubtedly feel at home on 2004's Louden Up Now– yet THR!!!ER is a thoroughly grown-up affair. The fiery attitude of the band who once used lyrics to piss off every "ties-too-tight" politician of the mid-aughts has (for better or worse) clearly been cooled with age. The influence of Spoon's Jim Eno, who produced THR!!!ER, is obvious; aside from the fact that tracks like "Fine Fine Fine" could pretty much be Spoon themselves, there's a heftier, heartier rhythm section on THR!!!ER that could only be Eno's doing. The sounds are nothing short of superb, offering a more firmly grounded vision to an already more cohesive vibe. Mediocre tracks like "Californyeah" are quickly forgiven in favor of slick dance numbers like "Slyd," which throws out snide, cheeky remarks cushioned by warped, wavy synths and R&B-tinged house beats.
In just nine songs, !!! manage to present a mature, thorough collection that doesn't outstay its welcome. THR!!!ER shows that dance-punk can survive beyond the Bush era, because really, when will we ever stop wanting to move to a great beat? Unfortunately, !!! have been absent from the party for the past few years, but will they score an invite to the next one? I think so.

3 / 5 bars