Dressing well is a brilliant thing in my opinion, it immediately adds appeal sexually and gives you an air of confidence. That said, there are very few people out there who dress well enough to warrant such claims and that is because people just don't have vision.   License: Creative Commons image source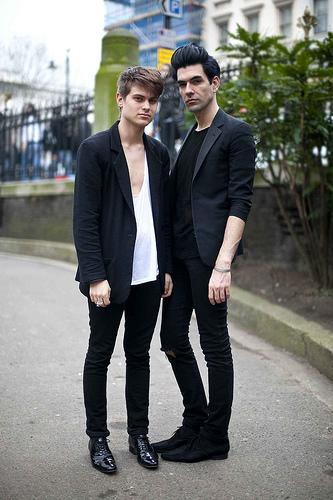 There are so many different and quite brilliantly innovative stores out there that and provide you with all the fashion options you need, it is just a matter of utilization and bravery. I appreciate that it isn't easy to style yourself in a way that is showcases your personality but do try and give it a go.
There are so many high street chains and it is just so easy to get stuck in conformist ways that limit you personally and socially. Dressing well is something that is personal to you only and isn't something anyone can take from you so.
Just spend a little time researching and planning your outfits, the internet is a pretty impressive creation and can give you all the information you need for a successful image transformation or modification.
Push Boundaries
You really have got to be willing to push the boundaries in the modern world if you are hoping to be stylistically successful. There is just so much variety out there and if you aren't willing to explore new avenues then you really will get left behind.
The vintage style really is on the rise and that is because of the overriding dominance of the high street, people are just getting sick of seeing the same, boring styles that are overpriced and made of terrible material. There are so many hidden gems out there just waiting to be unearthed and the best way to do that is by researching and being willing to take a risk now and then.
I can appreciate that is a tough time economically but looking to grab a bargain long term should look at wholesale buying. There are many companies out, visit the All Stores Clothing website to check out an example of a company offering such products.
Be Coordinated
It is so important to be coordinated. The rise of the hipster image is based around incoordination and only a select few people can pull it off successfully and that is more down to personality rather than the actual clothes they wear.
To be stylistically sound you really have to color coordinate and ensure that there are no clashes in your outfit. If this occurs then you really can kiss goodbye to any chance of success and in turn your social standing will decline and so on.
Just make sure you repeatedly look in the mirror before you leave the house and ensure you ask other people advice (people you trust to give you an honest opinion).
Have a Theme
By theme I mean more of a specific style. If you become synonymous with a certain style of dressing then you really do stand a good chance of being successful in the fashion stakes, do a little research and work out what you like and what suits your personality and don't be afraid to give it a dabble.
Brief Bio
Josh Close has a passion for fashion and has been writing about it for many years now. He graduated from a top london college and enjoys writing about style, future trends and icons of the past.