When disaster strikes or you find yourself – or a family member – in an emergency situation, there is little more terrifying than an inability to get help or reach loved ones. Be prepared as well as you can against such situations. Use your smartphone wisely and utilize three very important specialty apps designed for quick and easy use in emergencies.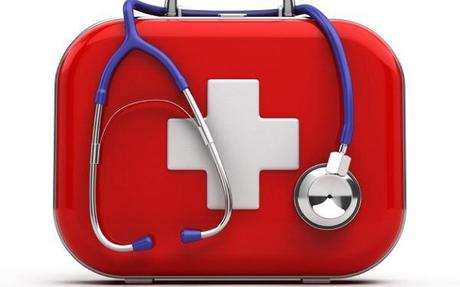 ICE Information Storage
This highly specialized app should be kept prominently displayed on your home screen. This emergency contact designation stores emergency contact information in a special folder or group at the front of your mobile's contact list, allowing both you and emergency personnel to reach your family easily. This "In Case of Emergency" designation will sequester your top contacts from the rest of your friends, your workplace or other numbered entries to facilitate the fastest and most efficient communication with important entities, whether you call them or emergency personnel do.
Because numbers appear before letters do, many users designate ICE contacts via a numerical prefix, such as "2-ICE-Home" or "3-ICE-John Doe." The numerical prefix automatically separates these entries, and many mobile users even correlate the prefix with an auto-dial setting. Most users also include the contact element without the ICE designation for normal contact list entries, enabling the habitual method of searching and dialing for casual, non-emergency use as well.
The second most common and efficient, immediately accessible method to store your ICE numbers is via a "sticky" that notes your ICE information directly on your mobile's home screen. Free downloads of sticky note apps are available for at least Android and iOS mobile devices. Don't fumble with a spell search: Have your important contacts immediately available and clearly identified just in case.
The single drawback to relying only on sticky note apps is that the numbers are simply noted: You cannot dial the numbers from the list. The actual ICE app is direct-dial-enabled.
FEMA
The Federal Emergency Management Agency or FEMA developed last year an Android app that aids users before, during and after disaster emergencies. This SMARTPHONE app provides recommended emergency kit items, enables a personal network contact or meeting area, which allows family members to coordinate travel or confirm contact when separated in an emergency area. The app also lists shelters and disaster recovery areas across the US. FEMA built this app to operate even when there is no local mobile service, a very important consideration and operability.
While the initial app was compatible with only Android devices, expansion into iOS and BlackBerry compatibility was planned: Check your device's app stores for availability.
FEMA didn't stop at a mobile app. They developed a text-based service that provides monthly updates and emergency notifications or potential areas of emergency. Text PREPARE to 43362 (4FEMA) to enroll in monthly disaster tips and SHELTER and their ZIP code, also to 43362, for local emergency shelter information.
OnCall Defender
This paid service protects you 24/7 utilizing the GPS system in your smartphone. While constant activation can drain your battery, if you mobile can receive a signal, then you have at the touch of a button trained personnel and easy access to emergency help.
Whether your are in fear of your life or need emergency medical attention – or both, let your mobile handset notify trained staff and send your location automatically.
Author Bio:
Jaye Ryan, a freelance author who enjoys writing about smartphones and smart uses for MobilePhones.org.uk.
The net's very best
autoblogging
plugin.