After the continuous discussions of Hurricane Sandy died down on the social media channels, it's back to politicking. There are only three days to go until the polls close, and both sides of the nation wait anxiously, hoping for a victory for their guy. But articles pop out claiming that Romney is slipping. The governor of New Jersey throws his weight behind Obama, and overall, very few people expect Romney to win. None of that matters of course, it's still anyone's game.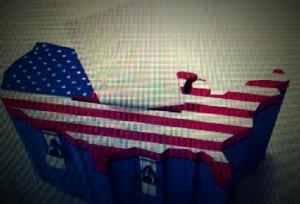 It's almost here
Economic indicators are up, unemployment is down. Housing starts leapt to their highest amount in Obama's presidency. Studies show consumer confidence rising, and retailers are looking forward to a big holiday season. While a lot of people still struggle to find work, and many have managed to find work but not in their desired field, conditions are certainly improving. None of that bodes well for the Romney camp, who were relying on a receded economy to make their argument for election.
One of President Obama's biggest critics, the larger than life personality of New Jersey Governor Chris Christie, has done what any good leader would do, he has looked out for his state, coordinated rescue and recovery efforts, and worked hand in hand with President Obama to coordinate the federal aid needed to rebuild his state. All of the hard talk and honesty that Christie was praised for by Republicans during the RNC softened. Christie's bipartisanship has reminded the nation that speech rhetoric is not how we work together as a nation. That also doesn't bode well for Romney, who was relying on the division of the nation (the 47%) to energize the other half to vote for him. Images of people working together do not help the Republican cause.
But the most telling information might be the new Gallup poll that has 54% of the nation believing that Obama will stand victorious, versus 34% that think that Romney will be able to pull it out. To be crystal clear, most polls have the popular vote in a dead heat, with certain swing states unpredictable. But the sounding of who the nation believes it will have as a leader reveals the state of the campaigns and the strength of the candidates. It might not mean anything, but the fact that the number remains essentially unchanged since the same polls in the spring, is intriguing.