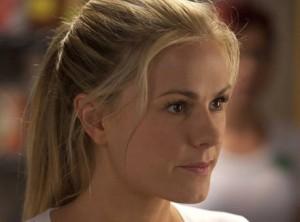 Even when she's not going between True Blood's Bill (Stephen Moyer) and Eric (Alexander Skarsgard) as Sookie Stackhouse or tending to her new twins, actress Anna Paquin always stays busy!
She currently has three films in production: Black Wings Has My Angel, Free Ride, and Straight A's.
Black Wings Has My Angel is a crime thriller which is written and directed by Alfonso Pineda Ulloa. It is about an ex-convict (The Avengers's Tom Hiddleston!) who teams up with a Mississppi call girl (Paquin) to assist him with an armored car robbery. With Lord of the Rings's Elijah Wood also set to co-star, it sounds like one heck of a film!
Free Ride is about a 1970s single mom who attempts to take care of her two girls while being involved in the Florida drug trade. The indie film is written and directed by Shana Sosin, but not only does Paquin star in it, she is also producing! It also co-stars Cam Gigandet and Drea de Matteo (The Sopranos)  and is currently in post-production!
Straight A's is a comedic drama telling the story of a drug addict who sees his mother's ghost.
With so many different film genres, Paquin is sure to show off her talent, even if we do miss Sookie!
Source: WetPaint.com - What Movies Does Anna Paquin Have In Production?
(Photo Credit: HBO Inc.)