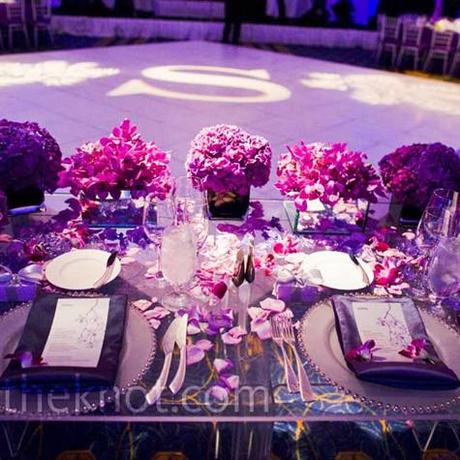 Wedding planning has been an interesting experience for me and very different than I thought it would be. To be honest, I feel like I'm supposed to be a lot more obsessed with wedding planning than I actually am.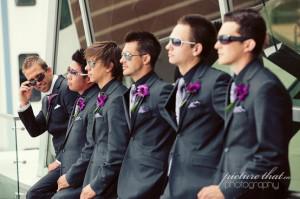 Love these purple groomsmen flowers!!
I wasn't one of those little girls who dreamed of her wedding day.  I hadn't thought much about what my wedding would look like before I got engaged either.  Although I will tell you- in the spirit of total honesty- I definitely "fantasized" about marrying Thano within the first hour of meeting him.
But my thoughts were more on us having dogs and kids or laughing together as old people, not for a second about our future wedding. All I knew was that I was totally crazy for my guy.
I'm 27 and my fiance, Thano, is 31 and we're totally in the "wedding wave" among our circle.  We've attended 9 weddings per year in both 2010 and 2011.  Several of these 18 weddings blend together in my head and feel all too similar.  Now it's our turn, and I'm wondering how to make our day special and unique.  There's no doubt the details are endless and that money & energy can get sucked up in the process if you let it.
I've known a few "bridezillas" in my day. I've also seen those whose worlds have completely stopped for 1 year due to wedding planning.  I do not want to be either of those types.  While many brides miss out on their friends' lives and events while planning, I want my friends closer more now than ever.  I can't wait to be on the other side of wedding world with my girlfriends who haven't yet walked down the aisle!  Unfortunately my efforts of NOT being bridzilla-like has consumed to the point where I haven't been enjoying the wedding planning process as much as I should be.
Yet this is one year I will only experience once, so I'm going to enjoy it gosh darn it!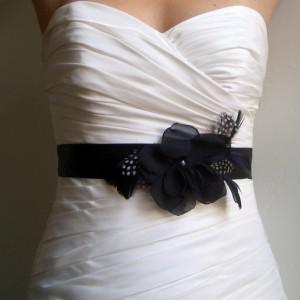 Love adding a black sash to wedding dresses and/or bridesmaids dresses. This one is from Etsy.
I finally realized that what had me in somewhat of a "dark cloud": meeting with vendors who quoted me outrageously ($40k just for flowers and decor!?!!) and made me feel bad about my wedding.  These same vendors referred me to other vendors (wedding photographers, lighting packages and chair rentals) that were thousands and thousands of dollars.  I started to feel very discouraged, which made me question the purpose of this whole "big wedding" thing.
Why so many Americans do this whole cookie cutter wedding thing in the first place anyways?!
Well, for me,  I got engaged and logged onto sites like TheKnot.com and all this crap is what they told me to do. Wedding sites and magazines are really good at making you feel totally paranoid that everyone is going to be booked up immediately and that you might "miss out on your dreams!"
Thanks to the florist I met with a few days ago for getting me out of my funk. She opened my eyes and now I'm taking a new approach.  Most photographers aren't $10,000, chairs are not $18 each and the hotel has a boat load of stuff they can do for free if you just ask. In addition, the wedding industry is one you must question, research and negotiate with.  Her widsom revealed that I've been lined up to be TOTALLY ripped off!
So after doubting having a big wedding at all, to changing my color scheme at least 3 times (from yellow to champagne to today's choice: purple) the pictures in this post are what I'm thinking of doing for my September 2012 wedding.
Please tell me your wedding planning experience or experiences you've had with other brides.  Any advice?
Oh and PS- I'd love your opinion
Long or short bridesmaids dresses?
Silver or purple with this bouquet?