It has been just over 3 weeks since I got my very first Shellac manicure, so please excuse the crazy growth going on in the photo below. As this was my first time getting it done I really wanted to put it to the test and see how it lasted during the recommend 2 weeks of wear. Luckily I've managed to get an extra week out of it with no chipping at all but the growth is getting very obvious so it's about time I remove the polish. I'm also very attached to this manicure because David had arranged for me to get it done a couple of hours before he proposed so it has been another little part of that amazing day that I wanted to hang on to for as long as possible.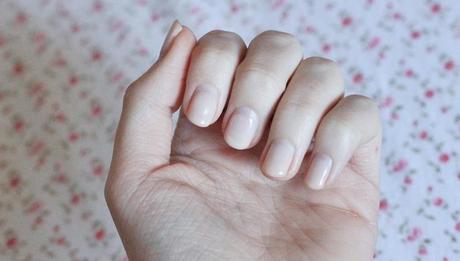 The actual manicure experience was lovely enough as it's always good to get a pamper, and your nails are no exception. After filing, shaping and buffing, my nails were ready for the polish! For anyone who hasn't experienced a Shellac manicure before, it really just consists of a base coat, the shellac nail polish and then top coat. All of this with a quick blast under the UV light after each coat and you're good to go.
Choosing a color was so tricky because there were so many gorgeous ones there, but in the end I opted for a combination of Strawberry Smoothie and Romantique as the two of them looked so pretty together. This combo gives your nails a subtle pink color with the white of your nail being slightly visible underneath, and boy am I glad to have gone for this color as it was absolutely perfect when it came to showing friends/family my engagement ring.
The only downside to my manicure was that the girl didn't do the best job of applying thin layers on one hand, which meant I ended up with gloopy looking polish on my left hand. I only noticed when we were back in our hotel room and saw my nails in natural light, and annoyingly I even managed to make a dent in one of the nails about an hour later when I was reaching into the wardrobe to get my jacket. So much for a smudge-proof nail color (mhm). The girls at the spa were great and had me back in a couple of hours later to get the nails fixed, and after that they were perfect. Hooray!
Now that I've had my little ramble about my Shellac manicure, I just want to finish by saying that I've been so impressed with the wear of the nail polish and can't believe just how good it looks after 3 weeks. My nails feel so strong and although I'm sure the removal of this polish will be an absolute nightmare, I'm itching to have another color on my nails. I'd definitely recommend Shellac to anyone who wants a long lasting nail color whether it's for everyday wear or for a special occasion, and you really are spoiled with so many gorgeous colours and combinations to choose from so the options are endless!