Hello guys. This is another attempt of me writing to this blog to distract myself from my current stress. I don't think this blog deserve to be a distraction, but I kind of need to right now. When Oscars was air, I was exhausted and on my way to start a hectic day full of things to do. I'm glad I didn't know all of the results right away, as I have almost no time checking the web. Anyways, between my routinity I've managed to watch the late show of The 86th Academy Awards. I don't have any big complaints, but here's my current thoughts :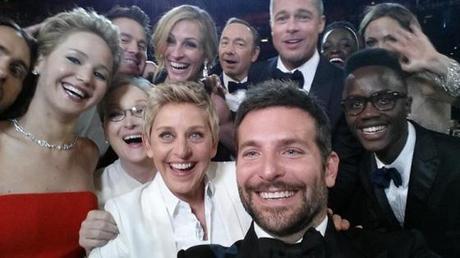 - Ellen DeGeneres is funny, at least in the opening quite make some huge laugh by her cynical but still digestible comments. But sometimes I feel she's quite monotonous. Offering pizza to the celebrities was a casual touch for the show, but unfortunately have a lot of dead air there. The selfies picture was funny and refreshing. Boy, Samsung have a lot of money in their pocket just to make that kind of advertisement. I hope it's very effective. At least it's very refreshing.
- I was excited to see Idina Menzel singing 'Let it Go'. People surely love Frozen, me too, my nephew and niece love 'em. But the lady sang it too quickly from the tempo. Was she heard the faster version in her earphone? Was she nervous? It's too bad because this maybe is her only time to sing in Oscars? Well hopefully not.
- A lot of buzz and praise of American Hustle, but please don't be offended, I'm glad it didn't win anything. If it did won Best Costume, it's natural. But let's face it, The Great Gatsby kind of conquer the category. Amy Adams was a lovely actress, but she should win the award for a greater and inspiring role. So is Christian Bale. And, Jennifer Lawrence should give this time for Lupita Nyong'o
- I loved most of the women nominated in Best Supporting Actress. I love Sally Hawkins gets a recognition again, but I hope in the future she'll grab that Oscar in her hands. I was also impressed with Julia Roberts. June Squibb was also nominated. Funny last night I saw Girls, and she was there starred as Hannah's grandmother. She's a solid actress for sure. Lupita was lovely in her light blue dress, gave a lovely speech and oh, she's studied in Yale Drama. That explains.
- 12 Years a Slave won Best Picture, is not that a big of surprise. Talk about humanity, the movie just have a very strong points and survival true story. I thought Steve McQueen would won Best Director. But I guess directing about human floating in space (which is all fictional in the making) and making it very real to the audience, was a breakthrough. So Alfonso Cuaron won for his work in Gravity. But I have no complaints.
- I'm glad Cate Blanchett won for Best Actress. I mean it's only fair. Streep was strong, but her role was not exactly screams 'hero'. Not only Blanchett gave a humble yet confident speech, but she wore a lovely dress that compliments her skin, eyes and blonde hair. Just perfect.
- Jared Letto won Best Supporting Actor. I remembered having a crush on him as he was playing this cute teen journalist and I never take his music seriously (I'm sorry for that). But then he won and he even compliments her mother (who was sitting next to him, very pretty even in her age). I think I loved his speech more than Lupita Nyong'o. I think he deserves to win, since his role, though not as the lead, pretty much give a little sweetness and more depth to the story.
- I'm very happy that Her won Best Original Screenplay. It is, very original. But Moon Song, didn't get the award. Well, songs about surviving and all is more Oscar-ish than romantic song.
- Is it just me, that I didn't see Andrew Garfield among the presenters?
- I was almost sure that Act of Killing would won best documentary, but I read that they loved 20 Feet From Stardom since it's more light and entertaining. That's a little weird reason considering it's Oscars.
- I have no comments about Leo didn't won Best Actor. Well, maybe if we could just give it a rest. The guy could actually just do his work without the tension and people's expectation.
- The rest, I have no complaints

Congrats also for Matthew McConaughey.
Here's the essential list of Oscar winners and their categories :
Best picture: 12 Years a Slave
Best director: Alfonso Cuaron, Gravity
Best lead actor: Matthew McConaughey, Dallas Buyers Club
Best lead actress: Cate Blanchett, Blue Jasmine
Best supporting actor: Jared Leto, Dallas Buyers Club
Best supporting actress: Lupita N'yongo, 12 Years a Slave
Best animated feature: Frozen
Best feature documentary: 20 Feet From Stardom
Best foreign-language film: The Great Beauty
Best adapted screenplay: 12 Years A Slave
Best original screenplay: Spike Jonze, Her
Best original score: Gravity
Best cinematography: Gravity
Best original song: "Let It Go," from Frozen
*************
Readers, any thoughts?