Thomas S. Moore Bourbon Chardonnay Casks, and the related line, is Barton's big foray into the world of finish bourbon and they went in a route I wasn't expecting: wine. Fortified wines like sherry, port, etc. sure. But Chardonnay? Like a tequila finished rye, this Chardonnay-finished bourbon came straight out of left field, arriving with something I never considered.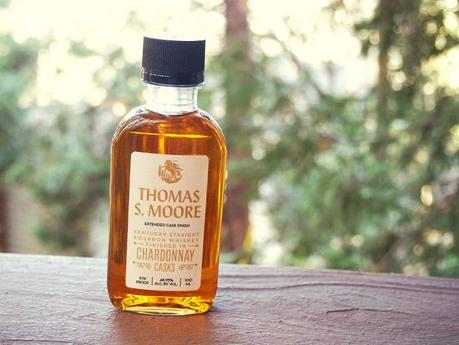 Red wine finished bourbon has been done quite a bit, and makes sense – you want to enhance the inherent dark fruit aspect that comes out in well-matured bourbon. But white wine feels like it's something that would get destroyed by Barton's high-rye bourbon and so on paper it seems like a bad idea… which is why I'm so intrigued by it. So, without further delay, let's get to drinkin' and see how it turned out.
Thomas S. Moore Bourbon Chardonnay Casks – Details and Tasting Notes
Whiskey Details
Region: Kentucky, USA
Distiller: Barton 1792
Mash Bill: At least 51% Corn + Rye + Malted Barley
Cask: New Charred Oak, ex-Chardonnay
Age: 4+ Years
ABV: 48.95%
Non-Chill Filtered | Natural Color
Price: $70*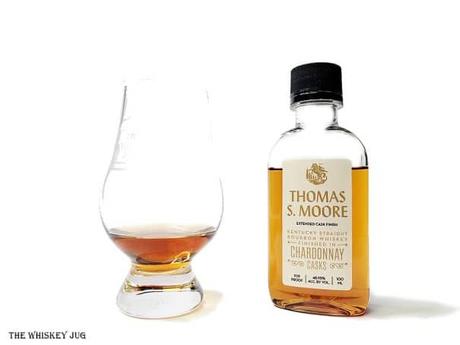 "Thomas S. Moore Kentucky Straight Bourbon Whiskey Finished in Chardonnay Casks has a rich taste, with notes of citrus, tropical fruit, and buttery oak. This whiskey is 97.9 proof." – Barton
Tasting Notes
EYE
Ruddy caramel
NOSE
Oak, caramel, slightly herbal baking spice, dried dark fruit, vanilla frosting, a bit of nuts and peanut brittle.
The spice slowly grows bolder as it opens and brings a touch more fruit with it. I can't say I'm really getting much in the way of wine notes on the aroma and it just reminds me of their bourbon.
PALATE
Oak, caramel, baking spice, dried grapey fruit, vanilla, roasted nuts and a slightly earthy herbalness.
There's the wine. It really pops on the palate of this Thomas S. Moore Bourbon Chardonnay Casks, but I don't get a nice, integrated, delivery. The wine and the bourbon are fighting more than they're complementing.
FINISH
Medium -> Grapey sweet, oak, nuts, and a slightly metallic off-note fades to a slightly off wine note.
BALANCE, BODY and FEEL
Not fully balanced, medium body, and a satiny feel.
---
Thomas S. Moore Bourbon Chardonnay Casks – Overall Thoughts and Score
The nose is pleasant enough, it's my favorite aspect by a long shot if I'm being blunt, but it's all downhill from there. On the palate and through the finish there's a disjointed, metallic, wine note that I've only really gotten in Scotch before. I've always wondered if bourbon would be bold enough to cover up this disconnected metallic note… and now I know.
The note is unique, but once you pick it up, it becomes very distinct. It's metallic, earthy and a bit human-like. Not in a Hannibal Lecter way, more in a if-you've-ever-licked-sweat-off-of-skin way. It's a product of that disjointed, unintegrated mix of distilled spirit and wine. And while I'm always intrigued when I find it, and exploring how prominent or subtle it is, I can't say that it's something I enjoy beyond that point of curiosity.
SCORE: 2.5/5
*Disclosure: The sample for this whiskey review was graciously sent to me by the company without obligation. The views, opinions, and tasting notes are 100% my own.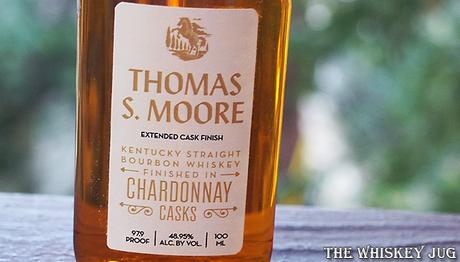 Thomas S. Moore Bourbon Chardonnay Casks Review
$70
Summary
The bourbon and the wine are not fully integrated and sit at odds with each other in this one. It doesn't feel like it a cohesive dram.
Overall
2.5
Nose

(2.5)

Palate

(2.5)

Finish

(2.5)

BBF

(2.5)
Sending
User Review
0

(

0

votes)
Comments Rating
0

(

0

reviews)

''