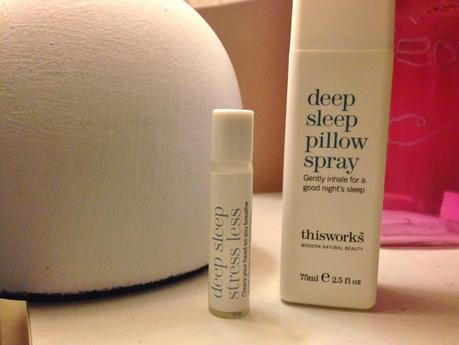 This works - Pillow Talk £22 Feel Unique
This was my high end splurge for January and o my am I happy I made it. I picked up the Pillow talk duo from feel unique which contains a 75ml pillow spray and the stress less roll on oil. I'd read so many good things about this range so was so excited to try it out. I don't have a problem with sleep once I'm asleep but I do find falling asleep hard as it tends to be the time when my mind decides to make 100 lists and think through life's problems. This duo has really helped me fall asleep I feel so much calmer and free of stress as I drift off and haven't once *touch wood* had one of those horrible 3 hours of wanting to sleep so bad but just not falling.
The pillow spray is full of natural essential oils like chamomile and lavender. It's such a lovely scent together and just smells like calm. The french lavender is meant to have therapeutic qualities to relieve tension whilst the chamomile is meant to soothe you to sleep. This really does work both me and my boyfriend are so much less restless trying to get to sleep. The oil has a roll on applicator which contains frankincense that acts to help you relax physically and mentally whilst also being brilliant for the skin. It again contains lavender helping tension and nervousness. This rubbed on your wrists and the back of your neck just before bed give just the best nights sleep. I can't recommend giving this set a go if you are one of those over thinkers before bed time it really has made so much difference to my sleep pattern.