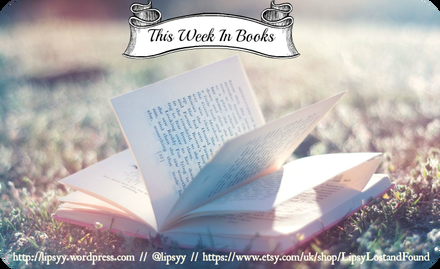 Welcome to This Week in Books, where we share what we've been up to in bookland this week and look ahead to next. 
Happy Wednesday you guys. I'm still trying to pull myself out of a reading slump, but I have managed some progress this week which is good!  Here's what I've been reading…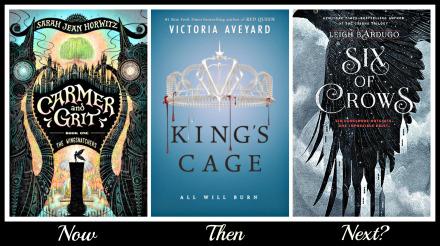 Now: The Wingsnatchers ~ Sarah Jean Horwitz // The Time Machine ~ H.G Wells
Surely a kids book about a magician's apprentice and a one-winged princess will get me back on a roll? Let's hope so. I'm just about to start it. And yes, I'm stiiiiiiiiiiill going on The Time Machine at lunch-times. Although I've actually forgotten what lunch-time means right now.
Then: King's Cage ~ Victoria Aveyard 
I'm really hoping that by the time I publish this post I've finished this book. I'm about 70 pages off at the moment. It's been OK but clearly not good enough to pull me out of my reading slump! SAD FACE.
Next: ???
I keep saying I'll read Six of Crows and then don't, but I am determined to this time. Promise.
New on the Shelves
 From Netgalley:
Alaska is a part of the world I would LOVE to visit, so I'm always intrigued by books set there. This contemporary YA sounds interesting. It's also been a while since I read a YA book with a male protagonist.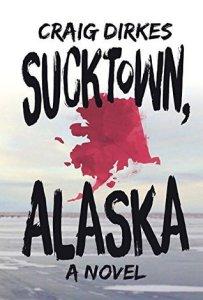 Sucktown, Suckington, Suckfield, Suckingham, Suckland, Suckmont, Suck Francisco. By any other name Kusko, Alaska, would still smell like human sweat, moose stew, and dog poop. But Eddie Ashford can't be choosy after partying his way out of college in one semester's time. He lands a job in tiny Kusko — a bush town located in the heart of unromantic Alaska, he's warned. Eddie intends to straighten out his act and make good on a promise to stay for a year, but soon he's indebted to his employer, overworked, and underpaid. He's also spurned by the almost-perfect girl, frustrated, and bored. He finds himself caught in a dilemma: do the right thing, work hard, and stick it out in Kusko or take a chance, smuggle some goods for the local pot dealer, and pile up the cash to pay his way out of Suckramento?
Expected publication: May 1st 2017 by Switch Press
I'm Waiting On…
A Gathering of Ravens by Scott Oden
Because… the premise reminds me a bit of The Last Kingdom (minus the fantasy elements) which I'm a bit obsessed with at the moment (the 2nd series is on BBC2 right now) and by the time this book is out I'll probably be having withdrawal symptoms.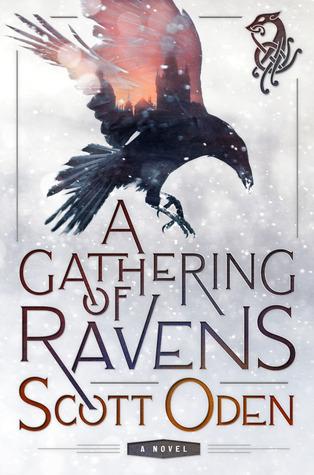 To the Danes, he is skraelingr; to the English, he is orcneas; to the Irish, he is fomoraig. He is Corpse-maker and Life-quencher, the Bringer of Night, the Son of the Wolf and Brother of the Serpent. He is Grimnir, and he is the last of his kind–the last in a long line of monsters who have plagued humanity since the Elder Days.
Drawn from his lair by a thirst for vengeance against the Dane who slew his brother, Grimnir emerges into a world that's changed. A new faith has arisen. The Old Ways are dying, and their followers retreating into the shadows; even still, Grimnir's vengeance cannot be denied.
Taking a young Christian hostage to be his guide, Grimnir embarks on a journey that takes him from the hinterlands of Denmark, where the wisdom of the ancient dwarves has given way to madness, to the war-torn heart of southern England, where the spirits of the land make violence on one another. And thence to the green shores of Ireland and the Viking stronghold of Dubhlinn, where his enemy awaits.
But, unless Grimnir can set aside his hatreds, his dream of retribution will come to nothing. For Dubhlinn is set to be the site of a reckoning–the Old Ways versus the New–and Grimnir, the last of his kind left to plague mankind, must choose: stand with the Christian King of Ireland and see his vengeance done or stand against him and see it slip away?
Scott Oden's A Gathering of Ravens is an epic novel of vengeance, faith, and the power of myth.
Expected Publication:  June 20th 2017 by Thomas Dunne Books
So that's my week in books, now why don't you tell me about yours!?
Advertisements