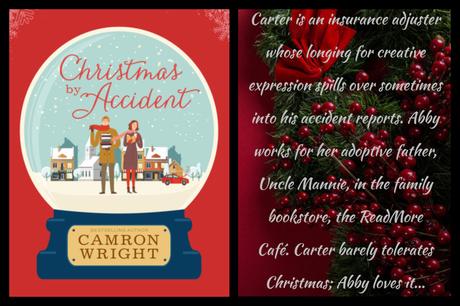 Christmas By Accident // Camron Wright //  Sept 2018 // Shadow Mountain // Goodreads
Christmas By Accident is a quick, holiday read.
As you should know by now, I love a good light-hearted, festive read, the trashier, the better,  but this one almost lost me on so many occasions.
This is a classic boy meets girl at Christmas story. Abby loves Christmas and all the magic that it brings. Carter is your average Grinch and doesn't see the point in any of it. When Abby gets in a car accident, Carter is the insurance assessor. He finds a picture of Abby in her written-off car and pockets it. Abby becomes the object of Carter's affection and things trundle on from there.
I don't know what it was about Carter, but he came across as a bit creepy and sad to me. I didn't like the way he took Abby's picture and kept secretly ogling her at work. I don't know whether I was subconsciously picturing him as a slightly over-weight, sweaty, creepy guy because he worked in insurance (sorry, Insurance Guys!), but for some reason I was. Descriptions such as  "Carter squeezed from his chair" didn't help.
I think it was mainly the descriptions that I had problems with, especially the way Carter described Abby as "slight of build" with a "princess chin". I mean, 1. Cliché much, and 2. What the hell is a princess chin anyway? *rolls eyes*
It was really obvious to me that the author was male, and quite out-of-touch too. Don't get me wrong, I think more men should write in the romance genre, but unfortunately this one wasn't a shining example.
But all that being said, I stuck with it, and did eventually get invested in the story. In the end I'm kind of glad I didn't give up; it actually ended up being quite sweet, if not slightly off in its tone.

Advertisements