JSYK…I'm taking a blogging break this January with the exception of this (simplified) post and scheduled ARC reviews. 
Here's my week in books…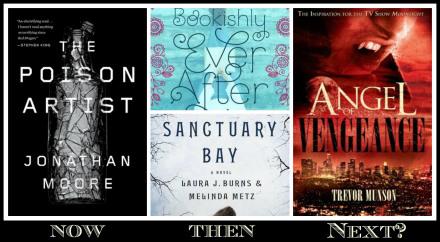 Now: The Poison Artist ~ Jonathan Moore
I was really looking forward to this thriller, but it hasn't hooked me yet, and I don't like the protagonist at all…I will plod on though…
Then: Bookishly Ever After ~ Isabel Bandeira // Sanctuary Bay ~ Burns & Metz 
From one extreme to the other this week! I LOVED Sanctuary Bay, which I reviewed here, but really didn't get on with Bookishly Ever After.
Next: ???
Now I've got some ARCs out of the way I think it has be Angel of Vengeance by Trevor Munson, which was a birthday present. The TV series Moonlight (swooooooon) was based on this book….eeeeeeeeeee!!!
If you're joining in leave the link to your answers in the comments so everyone can take a look :)