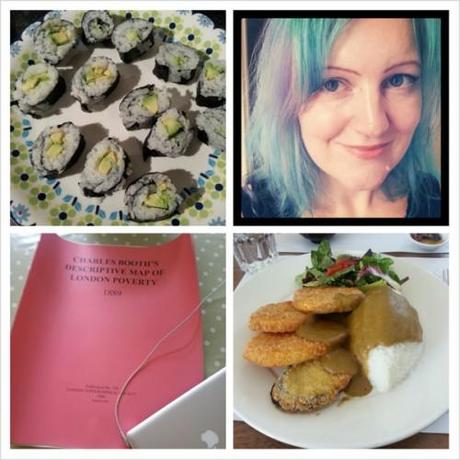 Homemade sushi!/My big mug/amazing present from my friends Mike and Tish – it's the 1889 POVERTY MAP/oh yum at Wagamama.
Haha, it's been a long time since I inflicted one of these posts on you all but seeing as I'm having a bit of a busy time right now I thought I'd check in with some pictures and STUFF! so you can see what I've been up to!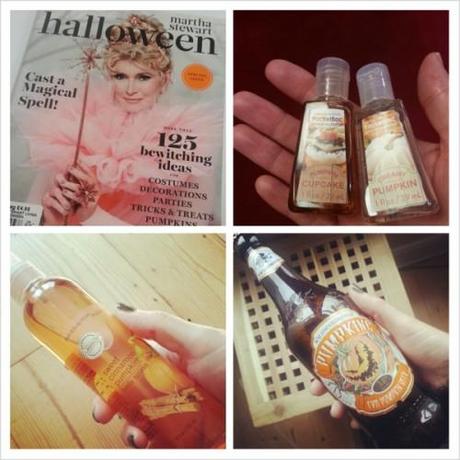 A plethora of Halloween stuff.
We're getting a bit more into the whole spiced pumpkin thing here in the UK although obviously we have some way to go before we're quite as enthusiastic as our cousins across the Atlantic! It's getting there though – we get all excited when Starbucks start selling pumpkin spiced lattes again and other pumpkin goodies are starting to make an appearance too.
Personally I love it. Halloween is my favorite holiday (hah, you don't say!) so I really like to throw myself into the whole black and orange thing but then I spent my childhood in the Highlands of Scotland where Halloween was always a bit more of a big thing than here in England.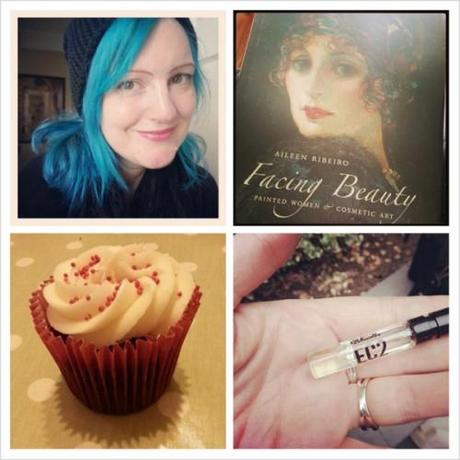 Blue hair/my birthday present from my in laws/red velvet cupcake/East End perfume.
I got this most amazing book from my in laws for my birthday – I love Aileen Ribeiro's books and can't wait to get stuck into Facing Beauty: Painted Women and Cosmetic Art as I'm fascinated by the history of cosmetics and also the way that beauty has been appreciated and viewed over the centuries.
My friend Suzy gave me this sample of EC2 yesterday, telling me that it is supposed to smell like the East End of London. Now as you all know, I BLOODY LOVE the East End so I was pretty excited to see what this smelt like. Oh dear. Darlings, it smelt like aftershave and gin so basically the worst Walk Of Shame ever. Oh dear. And then I WENT to the East End smelling like this and oh, it wasn't good.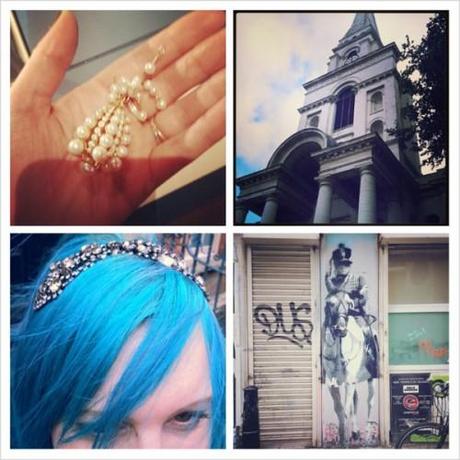 The Cheapside Hoard press preview/Christ Church Spitalfields/BIRTHDAY TIARA/Spitalfields graffiti.
It was my birthday yesterday, which was a bit exciting! I got up at HALF PAST THREE IN THE MORNING to go to London for the press preview of the Cheapside Hoard exhibition at the Museum of London, which was SUPERB and which I will be posting about in a lot more detail later on. The pearl pendant I am holding in the photo isn't real but is a direct replica of one of the Tudor pieces on display. I was rather taken with it!
After this, I walked to my beloved Spitalfields for a bit of a mooch around Christ Church, the market and a couple of pubs. It was ace. I decided to wear the rather splendid BIRTHDAY TIARA that Suzy presented to me, which caused much mirth amongst my friends as we have a kind of really weird in-joke involving tiaras that I won't repeat here but suffice to say it's enough to make a maiden aunt's ears blush with shame.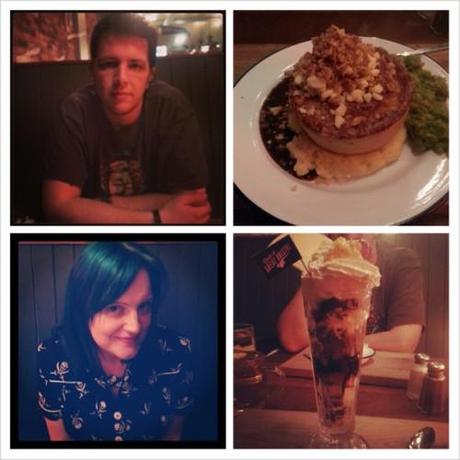 My husband/DELICIOUS PIE/me in a Vivien of Holloway pirate tea dress/KNICKERBOCKER GLORY OF DOOM
I went home in the afternoon and, after a much needed nap, headed out with my husband for a feast of PIE and GIANT MUGS OF CIDER and KNICKERBOCKER GLORY at Pieminister, which is one of my favorite places in Bristol. It was SUPERB.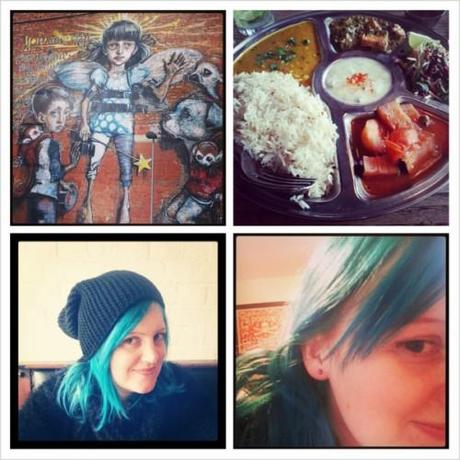 Bristol graffiti/Thali Cafe lunch/hat face/piercing!

Today was pretty nice too as we went out for lunch at the Thali Cafe in Southville, which was excellent. I then decided that it was about time I finally got my ears pierced as BIZARRELY I have never had them done before. I was probably a bit pathetic as I had to hold my husband's hand throughout but I did it and am now feeling really pleased with myself! The thing is that my grandmother was a tad on the neurotic side and raised me to be, well, scared of pretty much everything – including completely innocuous everyday things like ear piercings, cleaning products, planes, aerosol cans etc so I've decided to make a list of all the silly little fears that I haven't yet got over and go through them one by one. It feels pretty good actually!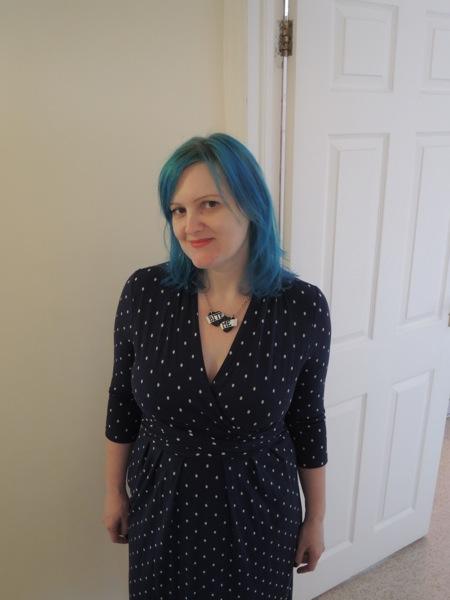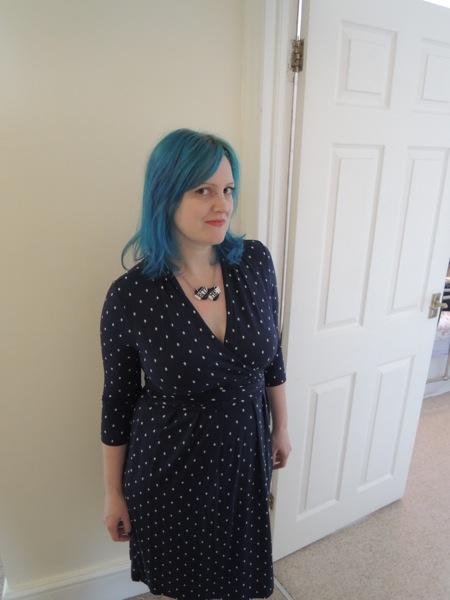 The whole weight loss thing is going really well still by the way. I wore this really lovely dress by Joules in a size that I never thought I'd be able to get into again today and feel rather pleased with myself about how it looked. I really love these comfy but exceedingly flattering shaped jersey dresses – they're perfect for the current season as they're not too clingy and also not too hot or cold so they're always really comfortable but look lovely too so you can basically throw one on but still look like you've made a bit of an effort. Aces. I'll admit that Joules isn't a label that I usually wear but I couldn't help but be drawn to the style of this one as well as its pretty vintage polka dots, which make a change from my usual black!
The Joules tunic dresses range is really nice too!
******
Check out my new alternative lifestyle blog, Gin Blossoms!
'Frothy, light hearted, gorgeous. The perfect summer read.' Minette, my young adult novel of 17th century posh doom and intrigue is now £2.02 from Amazon UK and $2.99 from Amazon US.
Blood Sisters, my novel of posh doom and iniquity during the French Revolution is just a fiver (offer is UK only sorry!) right now! Just use the clicky box on my blog sidebar to order your copy!
Follow me on Instagram.

Copyright secured by Digiprove © 2013 Melanie Clegg