When author, Jo Chandler, posted a comment about her novel This Side of Forever in a Goodreads group, I was immediately interested. She described her book as about alcohol addiction and redemption. Those of you who have read my first novel will know it contains the same themes. The similarities don't end there – both books have female protagonists whose fathers have died of alcoholism and who have drink problems themselves.
There are, however, many differences between our two novels, and one major one is that mine is aimed at adults, whereas Jo's is a Young Adult novel.
Like many Young Adult novels, This Side of Forever is narrated in first person and in present tense. While I don't think this works in every case it definitely does in This Side of Forever where it perfectly suits the fast paced and frantic storyline. As the novel opens Annie, whose story this is one the phone arguing with her boyfriend Adam. They used to have fun and go to parties together, but now he's nagging about her drinking and she's scared he's looking for an excuse to break up with her. Annie wants to get out and forget it.
Her friend, Lexi, is also upset, after an argument with her parents. The girls head out in Annie's car, with Lexi driving – and drinking. A crash leaves Lexi dead and Annie in shock.
Jo Chandler writes beautifully about grief. I read This Side of Forever shortly after my father's death and could recognize the feelings Annie experiences. She is bewildered, barely able to believe what has happened, longing for some sign from Lexi. Because of how Lexi died, Annie is also filled with guilt, and this leads her to reject Adam's support and to get involved with a guy nicknamed Raunch. His nickname matches his reputation, and through their tempestuous friendship, Annie dives deeper into drinking and drugs in an attempt to escape her pain. Eventually after a bout of particularly heavy drinking, she has an experience that changes her entire perspective on life.
To write a novel about alcohol abuse that doesn't judge your characters, you need to feel compassion for them and understand their feelings and situation. Jo Chandler clearly has that compassion and understanding. Her compassion extends well beyond the main character, to the extent that we can even come to understand and empathise with Raunch. Just as importantly, This Side of Forever, is a gripping story.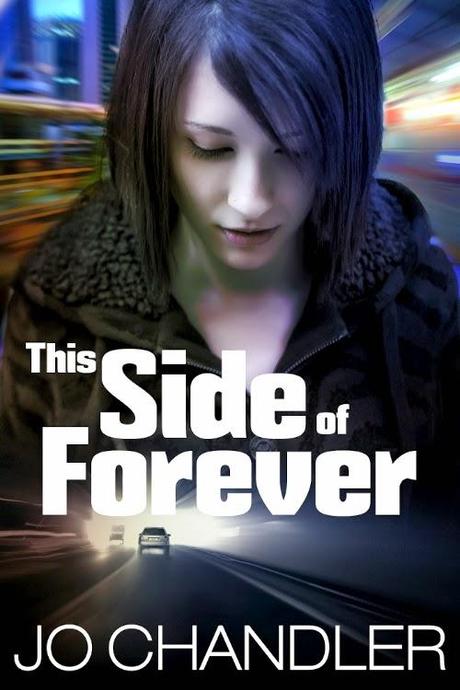 I wanted to find out a bit more about what led Jo to write This Side of Forever, and so I asked her a few questions! You can read these below, along with Jo's answers.
Yvonne: My inspiration to write my novel grew out of frustration with the romanticized way that heavy drinking was frequently portrayed in Scottish literature. Along the way, it evolved into a novel about family patterns and transformation. What inspired you to write
This Side of Forever (Forever Series) (Volume 1), and did it remain true to your original idea or did that change as you wrote?   
Jo: May I say before I begin that your novel, Drawings in Sand, is one of my favorite reads. It has stayed with me on many levels. As for my own inspiration to write This Side of Forever, I care deeply about teens, especially girls, and look for ways I can reach out to them. This story seemed the perfect vehicle to explore the themes that make up their lives--love, friendship, loss, addiction, and most importantly, that there is another way of looking at the universe, one that promises joy instead of pain. I want them to know what it took me years to discover.
Yvonne: You've worked with an organisation that provides shelter for teens living rough or in unsafe environments – is this why you choose to write for young adults?
Jo: I have an affinity for teens, especially those who face great challenges, so writing for this audience seems the natural thing to do.
Yvonne: This Side of Forever is an intriguing title. Could you say a little about how you came up with it?
Jo: Without spoiling the "twist" in the novel, let me just say that the title describes what I believe to be the true state of our existence.
Yvonne:  You've been into schools to read from This Side of Forever. How did that go?
Jo: I addressed some three hundred middle and high school students over five days last fall during Red Ribbon Week, a national anti-drug program. It was amazing. The kids seemed to love the story and loved reading passages from the book to their classmates. We had great discussions about driving and drinking and about what it's like to be a writer. It was divine.

Yvonne: You used to work in journalism – what made you make the transition to fiction and how does writing novels compare?
Jo: I was an editor and feature writer for many moons. It was a great career, but I had a story buzzing around in my head that wouldn't go away. When I retired from that writing career, I jumped into fiction with both feet. Now I'm hooked.
Yvonne: Could you share a little about your writing process – are you a plotter, or do you dive in and see what emerges?
Jo: I am not a plotter. I'm also not a pantser, although I wish I were. I have a good idea of what I want to say and where I'm going, as well as the end of the story. As I write, I the story arc is firmly in my mind. If I get lost, I stop and regroup. I've never done an outline in my life, not in non-fiction, not in fiction. But I do have notes that make sense to me.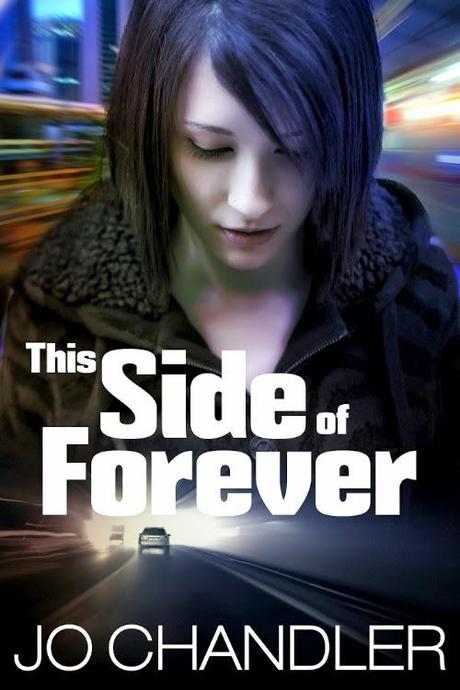 Yvonne: I love that phrase, "I'm also not a pantser!" I had to think about it for a moment. Now on to the next question – why did you choose to self-publish?

Jo: I chose to self publish because I wanted to get the story out as quickly as possible. That, of course, doesn't mean the manuscript wasn't professionally edited and seen by many eyes. I'm actually thinking of posting This Side of Forever on Watt Pad for kids to read for free in serial form. I'll do the same with my next novel.

Yvonne: That's awesome and so generous of you!  This Side of Forever is the first in a series – when can we expect to see the next book, and can you give us any clues as to what it's about?
Jo: I'm embarrassed to say that I'm not working on the series. I started the second book, but put it aside for now. I'm currently revising Street Girl, the story of a 13-year-old who lives on the streets with her mother. When her mom disappears, Zoe is left to find her own way. This is the original novel that turned me from feature to fiction.
Thank you Jo, and I'm looking forward to reading Street Girl when it comes out!