Hello girls,
I am happy to do this tag post as requested by Riya from mymakeupandbeautyvanity. As rightly said by her it is lot of fun and you get to know the opposite person/blogger  more better in a fun way.I second that. So  here I go.....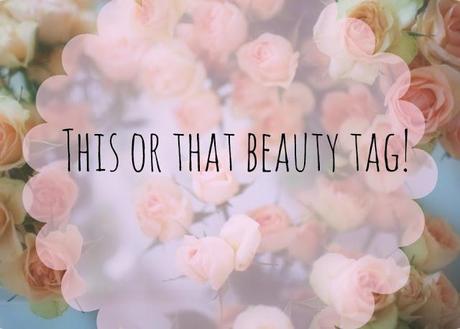 MAKE UP:
Blush or Bronzer: Bronzer - I love both but I love how Bronzer  sculpts the face.
Lipgloss or Lipstick: Hands down Lipstick.. Those who know me well know what a big weakness I have for them... Lol :P
Eyeliner or mascara: I would prefer mascara because it has less scope for mistakes.
Foundation or concealer: Concealer because it helps in hiding the flaws on the face.
Neutral or color eyeshadow: I like both but neutrals are always my first preference.
Pressed or loose eyeshadows: Pressed eye shadows because loose ones get a little messy.
Brushes or Sponges: Brushes are the best.
NAILS:
OPI or China Glaze: I have not tried any but love China Glaze.
Long or short: I love them short because it is hygienic and easy to maintain.
Acrylic or natural: Natural anytime.
Brights or darks: I love Brights as they can change your mood instantly ;)
Flower or no flower: I have never tried any nail art but I want to so i would say  both.
BODY:
Perfume or Body Splash: Perfume always as it is long lasting.
Lotion or Body Butter: Lotion most of the times.
Body wash or soap: Soaps because there are so many companies making yummy soaps and it is more convenient also ;)
Lush or other bath company: Well i have not tried Lush but here in Mumbai we get hell lot of hand made soaps which are affordable. So i would say other bath company.
FASHION:
Jeans or sweat pants:  I wear none of these. But i would prefer sweat pants.
Long sleeve or short: Short sleeves.
Dresses or skirts: You may be surprised but I don't wear any of these.
Stripes or plaid: Stripes.
Flip flops or sandals: Flip flops :p
Scarves or hats: I wear none of these.
Studs or dangly earings: I am a crazy earing collector. I love both but Now a days I prefer studs ;)
Necklaces or bracelets: Most of the times I wear none of these. But I prefer necklace.
Heels or flats: I never wear heels so flats for me always.
Cowboy boots or riding boots: None. I don't see myself wearing them ever :p
Jacket or hoodie: Both
Forever 21 or Charlotte Russe: Forever 21 is awesome.
Saks 5th or Nordstrom: Although we don't have these stores  in India. Nordstrom is amazing. They even have make up :p
HAIR:
 Curly or straight: 'Straight' as  most of the times I stay away from all the styling tools.
 Bun or pony tail: Pony tail anytime, Bun does not suit me ;)
 Bobby pins or butterfly clips: Bobby pins because they are versatile and work for all age groups.
 Hair Spray or Gel: I use none but I would prefer Hair Spray.
 Long or short: I prefer short  hair because I have hairfall problem and short hair is easy to manage
 Light or dark: I prefer lighter shade of hair colors and somehow they suit me too :)
 Side sweep bangs or full bangs: None... I  hate the sight of hair going into my eyes.
 Up or down: With so much of pollution I prefer keeping my hair up.
 RANDOM:
Rain or shine: 'Shine' as Rain makes me feel depressed.
Summer or Winter: Winter. Its better to wear a sweater than sweat like a pig.. Lol
Fall or spring: Spring makes me happy.
Chocolate or Vanilla: Chocolate makes me go weak in my knees ;) :p
East coast or west coast: Talking about India, west coast always.
I believe in simplicity a no nonsense attitude in life.I am not fashion conscious at all.. Hope I may learn something from all of you guys, especially from Tejinder Kaur... ;) <3 

I tag all the beauties to do this tag. It would be fun to read your answers too.
Love and Regards,
Natasha <3