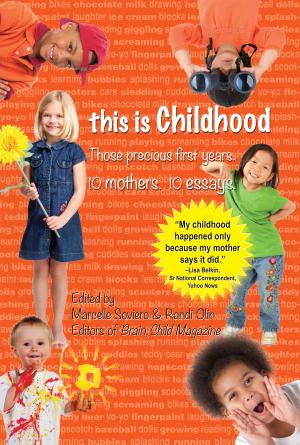 Once in a blue moon, a book comes along and sweeps you off your feet. It may be due to bright imagery, a sexy plot line, or a feeling you've been transported someplace magical. From the first few pages, you know you're in, and there's no going back.
This is Childhood: Book and Journal, a collection of essays examining each of a child's fist ten years of life, edited by Marcelle Soviero and Randi Olin of Brain, Child Magazine, is one of those books. The prose is thick and meaningful, and conjures the very feelings experienced during those amazing, yet fleeting, first years.
Featuring decorated writers such as Nina Badzin, Galit Breen, and Alison Slater Tate, This is Childhood brings the reader from baby's first gurgle to our first glimpse at our child's grownup silhouette, with poise, heart, and humor.
The moments we take for granted, the moments we often overlook in favor of filling our pantries or stealing well-deserved showers, are captured and displayed, like fireflies in a jar, throughout the book.
Each chapter, which represents an age, is also enhanced by commentary and anecdotes by the essays' authors, which only proves to strengthen their voices.
For those who are not aware, my husband and I have a four-year-old boy and three-year-old twins. Much of the past few years has, without doubt, been a blur. Days run into one another, as do milestones, as do moments most parents consider sacred. As such, I regret to say that I can't tell you exactly when either of my twins spoke their first words or took their first steps.
One great aspect of This is Childhood is that it serves as a reminder, causes you to recall those times, and ultimately appreciate those moments, even after the time has passed. Further, it helps the reader look ahead with expectancy at years still to come, inviting you to cultivate your soon-to-be eight-year-old's curiosity, or nurture his growing independence.
Writing prompts are provided for the reader in each chapter, based on a question or discussion the author is presented at the end of each essay. First, thy answer the prompt. Next, you do.The prompts are thought-provoking, and give the reader specific instances to discuss, such as describing your child's first day of kindergarten or an activity your three-year-old insists upon doing 'all by himself'.
I call This is Childhood The Thinking Mother's Baby Book, and, really, I can't say enough. If you're a fan of exemplary writing, being emotionally moved, and your own children, you should pick up this book. Whether you're expecting (I'd highly, highly recommend this as a shower gift), or already have children at or under the age of ten, this book is the perfect addition to any bookshelf, or disorganized nightstand, as the case may be.
I admit, I devoured This is Childhood in one evening (that's just the way I am!), but my recommendation would be to savor it slowly, like a Mediterranean dinner. It's that good.
I am proud to announce that I am able to give away FIVE COPIES! To enter, please leave a comment discussing one event in your child's life that you'll never forget. Consider it your first writing prompt. For additional entries, please head over to the Momma Be Thy Name Facebook page, and click the Giveaway tab.
I am grateful to have had the opportunity to review this book as well as the opportunity to make this book a staple in my life, and the life of my children, for the next seven years. I hope you do the same.
This is Childhood is available at Brain, Child Magazine. The Kindle edition is available at Amazon.
I was provided a copy of This is Childhood by Brain, Child Magazine in exchange for this review. All opinions herein are my own. 
Giveaway Rules: Valid email address required to be eligible to win. Winners will be drawn on July 2, 2014, by 6pm ET and notified via email, the Momma Be Thy Name Facebook page, and on Twitter @MommaBeThyName. Residents of US ONLY are eligible to enter. Winners must respond within 24 hours or a new winner will be chosen.