Here in sunny San Diego, we don't really experience seasons in the traditional sense.  We have Cool, Warm, Hot, and Super Hot.  That's it.  No blizzards, no hurricanes, no colorful leaves or extreme humidity.  Just abundant sunshine and the occasional inch or two of rain.
There are a few signs, however, that suggest summer has indeed arrived in Southern California.  They usually come in the form of fresh produce – seasonal fruits and vegetables that scream the words June, July, and August.  Peaches are a good example.  Although modern farming techniques and genetic engineering have granted them year-round availability, you can't expect to find a perfectly ripe, juicy one until late May or early June.  The same goes for all other stone fruits: plums, apricots, nectarines, etc.  This extensive family of tree fruit is a classic symbol of summer's bounty.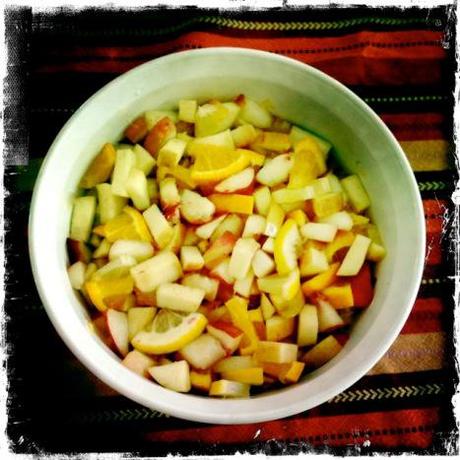 But peaches and plums aren't the only ingredients for a classic California summer.  July and August would be utterly unbearable if not for a cold glass of Spanish style sangria.  This succulent wine cooler battles the heat with an all-or-nothing attitude, combining an outlandish variety of spirits and seasonal fruit in a giant pitcher of communal glory.  Sangria is derived from the Spanish word for blood – sangre – and is traditionally made with fresh lemon, orange, apple, brandy, and a few bottles of red wine (the cheaper the better).  In Spain, it's typically served in a large pitcher or other round vestibule suitable for sharing.  All that really matters is that everyone gets more than what they really need.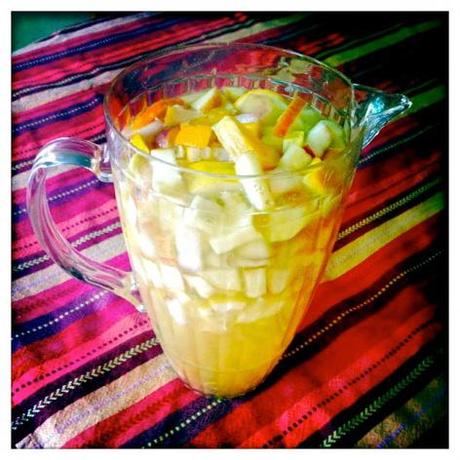 For a Southern California twist, try adding fresh white peaches to your next batch of summer sangria.  The fruit's soft flesh acts like a sponge, soaking up dangerous amounts of booze and adding a soft layer of complexity to the wine.  A crisp Sauvignon Blanc or Pinot Grigio is your best bet for this recipe, as it complements the subtle flavors and golden hue of a ripe peach.  Don't forget to mix the fruit and liquor a few hours ahead of time to ensure optimal soaking.  And be generous with the gin.  Your party will thank you.
Ingredients:
2 bottles white wine
8 oz gin
8 oz triple sec
5 white peaches
3 red apples
3 lemons
2 oranges
8 oz lemon sparkling water
Directions: Combine gin and triple sec in a large bowl. Dice the peaches and apples. Slice the lemons and oranges and cut into wedges. Add fruit to bowl and mix well. Let soak in refrigerator for at least 4 hours. Add the wine and sparkling water immediately before serving.