Ok, we've been hiding this ring away for quite some time, ready to break it out for the perfect cocktail party, and we think this week's happy hour is finally the right time. With Halloween swiftly approaching (you have 21 more days to determine the perfect ironic/hilarious/sexy costume) our minds are on all things ghoulish. So when we can across this "witches brew" martini on Pinterest, we knew we just had to give it a whirl. Luckily we had this perfectly coordinating tanzanite cocktail ring ready to wear. And wouldn't you just know it, it is absolutely bewitching.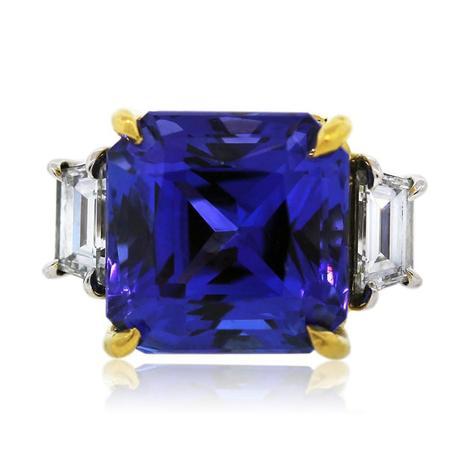 Why yes, that is a huge, perfect 9.77 carat radiant cut tanzanite thank you very much. An impossibly rich violet hue, this gem is just deliciously candy looking, making it even more appropriate for your upcoming trick-or-treat outing. The center stone is flanked by two gorgeous step cut diamonds cut into trapeze shapes, weighing 1.76 carats total (an impressive .88 carats each). Both diamonds are H/I in color and SI in clarity, set into the platinum mounting. The setting for the tanzanite itself is a rich (and we mean bright, shiny, high karat yellow rich) 22 karat yellow gold. This contrast highlights the gorgeous color of this stone even more to create a huge impact that has nothing to do with the large size of the ring. Really, you won't be able to tear your eyes away from your ring finger long enough to notice the tasty drink in your hand.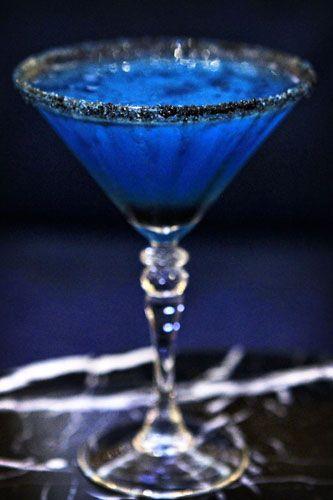 But we must insist that you do. Check out this dramatically dark looking drink! This is the liquid equivalent of the insanely pretty evil costumes straight from Disney on Ice. And we mean that in the best possible way. Bacardi Dragon berry rum, mingles with Blue Curacao, Creme de banana and fresh squeezed lime juice in this concoction served at FIRST Food & Bar in Vegas. Grab yourself some black sugar to rim the glass and save yourself the price of a flight to Vegas by making this at home and applying your pinched pennies to the stunner above. Cheers!