You guys -it's fall. Officially fall. And while the Palm Beach County part of us is longing for riding boot weather and the chance to wear faux leather leggings without breaking out in heat rash, the Chicago-dwelling part of our persona (read: snowbird: is dreading the already sub-60 temps. Sure, leopard print flats and cream chunky cable knit sweaters are all well and good, but come November, there's only one thing that can truly keep us warm. Ok, two things (The North Face and our favorite Kenneth Cole coats do have their place, after all), the latter of which is booze. And the only thing we enjoy more than shopping is seasonally appropriate cocktailing. In summertime, you can bet that involves patio noshing over rose in the Gold Coast (and clinking beer steins while visiting Deck 84 on a gorgeous June Day). In autumn though, it's time to break out any and all things apple and pumpkin flavored. Because one of our cocktails is the fabulous shade of Red Delicious gemstones, the other one by necessity is apple flavored. But before we get ahead of ourselves, let's train our attention on what we're wearing before we head to what we're drinking.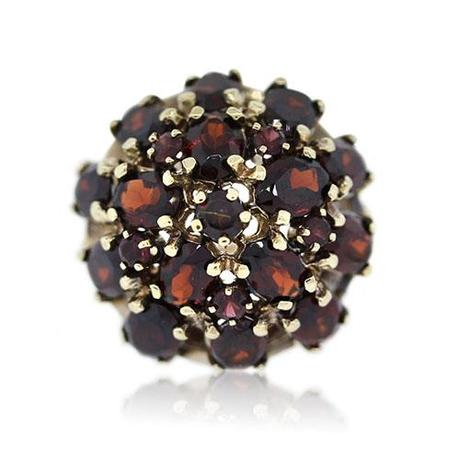 First of all, one of our all time favorite cocktail ring shapes is the the cluster. It evokes a pomander of carnations, or better yet peonies, that satisfy our thirst (pun definitely intended) for all things fluffy. This mass bunch is a group of garnets, all beautifully warm tony red and brilliantly faceted. They're set in 14kt yellow gold prongs and setting and number 19 in total. The ring is vintage so no word on carat weight but it's substantial enough to make this a statement ring, not a stacker. In honor of such lovely garnets, we're sticking to red apple cocktails and toasting to The Glitter Guide's Caitlin M. for making us want to cozy up next to the fireplace drinking these fall cocktails, wearing our new favorite cocktail ring and the aforementioned cream cable knit.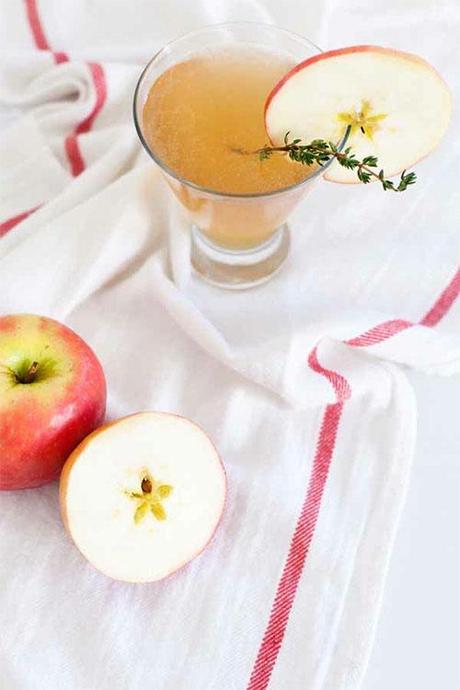 This cocktail blends dark rum, lemon juice, thyme simple syrup, sparkling apple cider and a pink lady apple garnish to serve you up autumn in a glass. Cheers!