I haven't been into linkup style posts in awhile. I used to do the WIAW thing almost weekly, and it just got old. I share my food here anyway, but I'd rather do it when I want to and not feel forced to do it just because it's the 'cool' thing.
But I've got a bunch of random ramblings going on in my head right now, so what better way to share them than with the Thinking Out Loud Thursday linkup?

I bought baby food AND dog food at Sprouts. And I don't have a dog or a baby…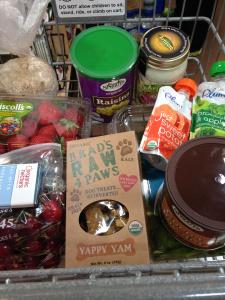 Some of my other Sprouts buys.
On one of my days off, I decided to make the trek to Sprouts for a midweek produce restock…and of course, I bought a lot more than I intended to. I don't go to Sprouts more than maybe once a month anymore because it's just not as convenient to work or home as Whole Foods is, but they do have some pretty cheap produce. But then I happened to stroll down the baby food aisle and I decided to get a couple pouches. They'll be good to take to work when I don't feel like packing veggies! And then I saw the Brad's Raw dog treats were on sale, and even though they're meant for dogs (but people-friendly too), the ingredients are spot on and they sounded good. Well, that was a waste of $5, because they taste nasty. I don't even know why, because they're just made of kale, sweet potatoes, spices and buckwheat groats. Maybe I'll find an actual dog to feed them to…
I legitimately don't understand how 20-somethings can vacation so much
Chalk it up to bitter jealousy, but I just don't get it. 'Tis the season for vacations, and it seems like every blog I read has some vacation recap and/or talking about an upcoming trip. I'm certainly not opposed to travel, it's just that I grew up in a family where we vacationed once, maybe twice, per year. And usually one of those trips was an in-state road trip to the mountains. We weren't poor, it's just that my parents chose to spend money on other things. Now that I have a job and money of my own, I realize just how $$$ traveling is. And that's why I don't get how recent college grads like myself can take trips (especially by plane) so often. I'm talking multiple times in the summer alone! A car trip just to go back home is a good 10 hour + trip one way (I'm not making that drive, it sucks) and a 2-3 hour flight is at least $150 each way. And that would be going home, not even having to pay for a hotel or food. I want to fly home at least once this year, and I'd like to visit my good friend when she moves to Salt Lake City, but traveling that much is just not in the cards, wallet-wise :(
I basically eat the same breakfast every day, and it does NOT get old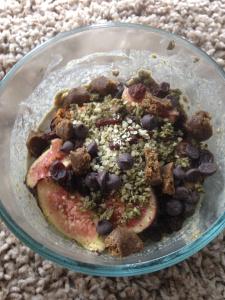 The protein bowl, aka my breakfast special.
I got into the habit of making a protein chia pudding (Sunwarrior or Garden of Life raw protein+chia seeds+almond milk) for breakfast and then topping it with all sorts of stuff, usually raisins, stevia chocolate chips, raw granola and raw salted nuts. I'm basically obsessed with the sweet+salty combo. And now I've eaten this every single day for probably a month. I even eat it when I have breakfast at work — I just put the chia pudding in one mini tupperware and the toppings in another and combine at my desk. Sometimes I add fresh fruit (like the figs in the above picture), or half a Larabar, but it's way too good. And sometimes, I even have it for dessert.
I'm obsessed with the pink+grey combination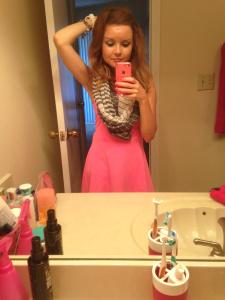 I also love dresses with scarves.
Who says scarves are for fall and winter? I love them year-round, especially paired with dresses. And a plain (but really cute) dress like this just screams to be put with a patterned scarf. I also love how pink and dark gray pop against each other. It's a good way to make pink less girly for those of you who dislike the color (obviously not me).
How often do you travel? Have you ever bought baby food to eat yourself?