Yangon is more than just an ex country's capital. Although it has been a center of governance, Yangon is not only a boring city with offices and commercial buildings. Yangon have a lot of fascinating tourism sites that could attract world traveler to drop by more than a day and to explore. Here is some list you might want to pencil in when you make your Yangon Itinerary.
1. Visit Shwe Dagon
Yes, this is the primary agenda! Though it sounds so mainstream for every tourist, but heyyy, this is the majestic Shwe Dagon that we're talking about! Based on the legend, this is world oldest pagoda which was built since 2600 years ago, while some historians have researched that this was build around 6th or 8th century. A couple of giant Leogryph  (mythical lion) guard one of four main entrance to this pagoda complex. On the top of  pagoda, there lies a crown which is tipped with 5488 diamonds and 2317 rubies. The body it self is covered by hundreds gold plates.  Guess what, there are  hundreds stunning and artistic temples, stupas and Buddha statues you can visit inside the complex, such as Reclyning Buddha, Buddha Sacred Tooth Relic Replica temple and Jade Buddha
2. Enjoy tranquil ambiance at Kan Daw Gyi Lake
Kan Daw Gyi lake has a peaceful panorama, with a beautiful Karaweik palace floats in the middle. Sit on its wooden bridge, have a light chitchat with some local while sipping the summer breeze. You're going to like this place as I do. And by the way, don't forget to visit the temple located not very far to see some artistic Buddhism statues in different pose.
3. Sightseeing at the downtown
Yangon has some historical buildings that are worth a visit at the down town. Red bricked High Court building with its clock tower, City hall which becomes city landmark, lovely St. Marry Cathedral, Sule Pagoda and of course Mahabandoola garden where you can see the Independent monument guarded by four mythology lions.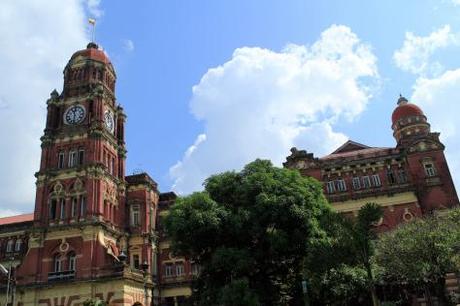 High Court Building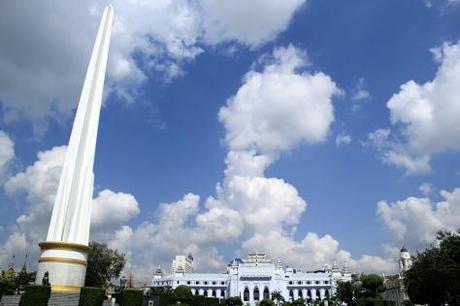 Independent Monument and City Hall
4. Visiting Aung San Suu Kyi House
Many travelers don't recommend this because you could do nothing but starring at the house from the locked gate. Well, at least you have visited it once in your life time. So, you can tell your friends that hey, I was in front of one of world famous public figure! Yes, it's Aung Sang Suu Kyi, Burmese Democracy heroine! Who doesn't know her?
5. Shopping at Bogyoke Market
Bogyoke Market is the biggest souvenir market where you can buy variants things like key chain, traditional garment and clothes, wooden carved statue or wall decoration and so on. And if you are an agate stone collector, this place is your heaven! They don't only have the raw material one or attached on jewelry, but they also sell some incredible painting decorated by it! Just note that this market always closed every Monday.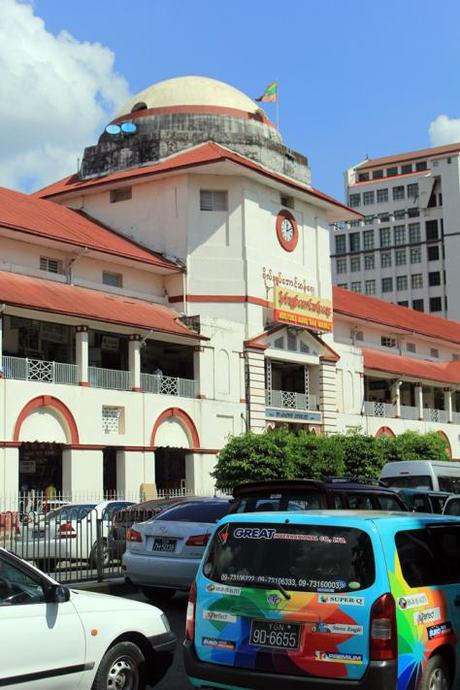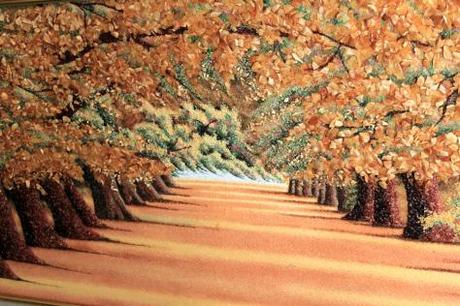 6. Culinary Hunting!
Local food is indeed another major agenda you should put on your itinerary. And Myanmar food is one of South East Asian culinary which has an authentic taste. Try Let Thohk Sone , noodle salad mixed by hand or Mote Hin Khar, traditional noodle which becomes local specialty.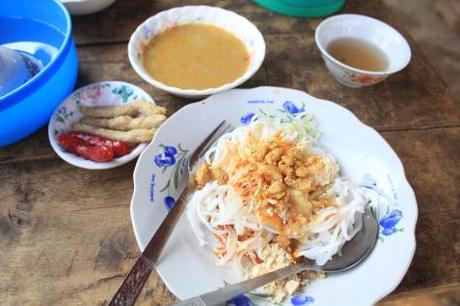 7.  Waiting for Sunset at Inya Lake
Located outside downtown,  Inya Lake is the best sunset point in town. You can sit at  some bench provided, gazing at the rippling lake surface. Inya Lake also has beautiful garden where you can take some photos or just chill out while enjoying the reddish round sun slowly rolls over the horizon.
8. Blend In with Locals in the Evening
Go to one of street side cafe which only opens every evening. You can pick whether you want to dine the local main course or you want to taste a glass of cold yoghurt along with barbecue snacks. Some locals do speak English, so you can have a casual conversation with them.