A test of the senses for liqueur lovers. 
Van Gogh was apparently a genius.  But other than his lacerated left ear and the lacking sense of dimension in his paintings, his work doesn't offer anything too exciting.  Call me an ignorant philistine, but he had absolutely no dimensional awareness.  Down the road however, is House of Bols – if you're looking for fun yet educational things to do in Amsterdam (or you just want to get tipsy on liqueur), make sure you stop by.
The Van Gogh Museum in Amsterdam is great if you're a die-hard fan, don't get me wrong, and learning about Van Gogh's history and his artistic influences can be very interesting.  But I've always found shuffling around next to dozens of tourists behind a line of red rope, somewhat contrived.   I've never been too much of a museum fan either as I've always found that kind of thing quite limited, but House of Bols opens up a whole new world of interactive learning.
You will be able to discover the history of Lucas Bols and the different liqueur flavours, as well as putting your senses to the test in the Hall of Taste.
Things to Do in Amsterdam for Less
Amsterdam is a reasonably priced city in Europe but as ever, museums and art galleries can purport pretty painful prices.  House of Bols has a middle-of-the-road admission of around 10-12 Euros per person but for the price, you won't leave empty handed (or level headed).  You may even leave feeling a little drunk if you visit first thing in the morning and forget to eat breakfast.  Not one of my better ideas.
Your ticket will include a free cocktail and a free shot of your choice from their extensive liqueur shelves, and you will even get to try your hand at the bar tender's art of flair at the end of your visit.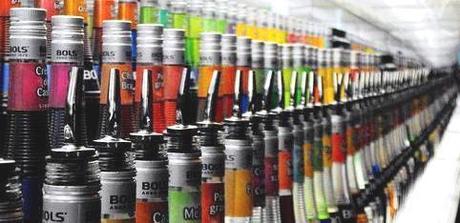 I would recommend that you go to House of Bols in the late afternoon when getting merry on fruit cocktails is more acceptable; it could be the perfect preface for your evening meal, or the ultimate finale to wrap up a day of red rope shuffling.  
Put Your Senses to the Test at House of Bols
Currently, there are almost 40 liqueur flavours available and over 15,000 cocktail recipes from the Bols recipe archive.  The Hall of Taste lets you put your senses to the test in detecting all of the unique aromas.  If your name is Andrew, you'll be surprised at how untrained your palate is.  And if you're anything like me, you'll treat the Hall of Taste as a competition and brag about it afterwards.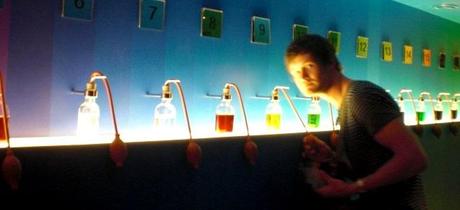 From coffee flavour to Marasca cherry, passion fruit to the subtle hint of coconut, bitter orange to the sugary sensation of Advocaat, the House of Bols brings every single flavour to life.
Try Your Hand at Flairing: Embarrassment is Optional
Your tour will end at the famous House of Bols Mirrors Bar, where style you will be able to choose your perfect cocktail based on your taste preferences.  The Mirror Bar is incredibly stylish, with mirrored walls and ceilings to echo the different colours of liqueur around the room, and the bar staff will amuse you with their flairing skills.
After adequate inebriation, you can use the flairing room to practice bar flairing with plastic bottles.  The room is private so you can suck in the solitude of your own company, or alternatively, you could record yourself and email the clip to all of your friends for ridicule.
I loved the House of Bols and I completely fell in love with the creamy Corenwyn Alexander cocktail, served in a lush Martini glass with delicious grated chocolate to finish.  I hope you find your perfect cocktail too…..